A Human Rights Crisis at Home: MMIWG2S+
The content in this blog post may be difficult and/or triggering. If you or someone you know needs emotional assistance related to this topic or the information in this article, help is available 24/7 through the MMIWG Support Line, 1-866-413-6649.
On 1 December 2022, a Winnipeg man with a history of intimate partner violence and far-right racist, bigoted, and misogynistic views, including residential school denialism, was charged with first degree murder of four Indigenous women. We must begin with their names, and the communities they have been taken from: Rebecca Contois of O-Chi-Chak-Ko-Sipi First Nation, Morgan Harris of Long Plain First Nation, Marcedes Myran of Long Plain First Nation, and a woman who elders have named Mashkode Bizhiki'ikwe or Buffalo Woman.
The losses of these four women to violence is a sharp reminder that murdered and missing Indigenous Women, Girls, and Two-Spirit, Lesbian, Gay, Bisexual, Transgender, Queer, Questioning, Intersex, and Asexual Plus people (MMIWG2S+) in Canada is an ongoing human rights crisis. Colonialism has created a world where Indigenous women and Two-Spirit plus people can be, and too often are, targeted for violence, where Indigenous advocates and activists have been silenced or ignored, and where available responses and remedies have too infrequently been marshaled in response to that violence.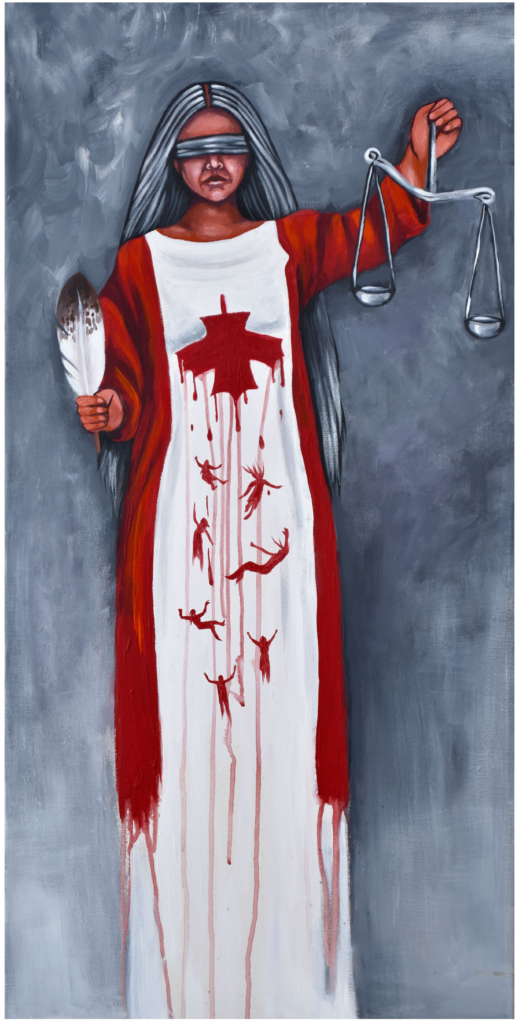 The events of early December 2022 also remind us where social and historical change most often comes from. We have seen MMIWG2S+ families and Indigenous leadership work tirelessly to demand appropriate resources and attention from all levels of government. The Harris family have spoken difficult truths to entrenched power. Winnipeg Centre MP Leah Gazan has used her position as opposition member to demand federal resources and initiate a parliamentary "Take Note" debate on MMIWG2S on 7 December 2022. Long-term Manitoba advocates including Sandra DeLaronde, former co-chair of the Manitoba MMIWG Coalition, Nahanni Fontaine, MLA for St John's, and Bernadette Smith, MLA for Point Douglas and sister of Claudette Osborne-Tyo, missing since 2008, have worked to demand action. First Nations governments, including Southern Chiefs Organization, the Assembly of Manitoba Chiefs, and Manitoba Keewatinowi Okimakanak and the Assembly of First Nations have all called for the Winnipeg Chief of Police's resignation.
The crisis of MMIWG2S+ is far from new. The targeting of Indigenous women is embedded deep in Canada's history. So are the social, economic, and cultural circumstances that enable it, and the failure of available institutions to substantially respond to violence against Indigenous women, girls, and Two-Spirit plus people.
In the past three decades, Indigenous women's activism has forced Canada to recognize MMIWG2S+ as a problem that is widespread, damaging, and pressing. Manitoba's Aboriginal Justice Inquiry, struck in 1988 and tabled in 1999, was in part a response to the murder of Helen Betty Osborne in The Pas in 1971. In 2004, Amnesty International released Stolen Sisters: A Human Rights Response to Discrimination  and Violence Against Indigenous Women in Canada and the Native Women's Association of Canada launched the Sisters in Spirit  initiative. The National Inquiry on Murdered and Missing Indigenous Women began 2016 and tabled its two volume report three years later.
The Centre for Human Rights Research (CHRR) at the University of Manitoba was established in 2012 with the goal of supporting and fostering research around human rights, broadly defined. Researchers associated with the CHRR are addressing MMIWG2S+ in a range of ways. Dr. Kiera Ladner and Dr. Shawna Ferris are leading the effort to create a digital archive of the Walking With Our Sisters project initiated by Métis artist and activist Christi Belcourt. Dr. Karine Duhamel, Dr. Adele Perry, and Dr. Jocelyn Thorpe have been examined some of the links between MMIWG2S+ and dwindling public transit options. You can listen to some of that work on a podcast produced by Olivia Macdonald Mager. Professor of Law Brenda Gunn has argued for the importance of using a human rights based approach to understand and address violence against Indigenous women.
The events of December 2022 have made clear that MMIWG2S+ continues to be a human rights crisis that demands our consideration and action. MMIWG2S+ families, Indigenous leaders, and First Nations governments have drawn appropriate and needed attention to the lacklustre response of the relevant settler governments and agencies, especially to the Winnipeg Police Service's decision to not search relevant landfills. On 13 December, a coalition of Indigenous organizations and governments called on the federal government for immediate resources, and to invite the United Nations Special Rapporteur on the Rights of Indigenous Peoples to oversee the search.
It is a good time for all of us, including non-Indigenous people like myself,  to ask why Indigenous families, communities, and activists must do so much to get so little. It is also a good time consider how all of us can contribute to the ongoing efforts to understand and address this human rights crisis of MMIWG2S+.
Dr. Adele Perry is director of the Centre for Human Rights Research and distinguished professor of history and women's and gender studies. She is a historian of colonialism, gender, race and western Canada in the 19th and 20th centuries. From 2003 to 2014, Perry held a Tier 2 Canada Research Chair and she is a fellow of the Royal Society of Canada and past president of the Canadian Historical Association.