The Centre for Human Rights Research's Visiting Community Researcher Program seeks to strengthen the human rights research landscape by supporting community-based researchers, activists, practitioners, organizers, and artists.
Visiting Community Researchers will have access to university resources, libraries, and administrative support to connect with community organizations, as well as university faculty, students, and staff and to envision, develop, and share interdisciplinary human rights research projects.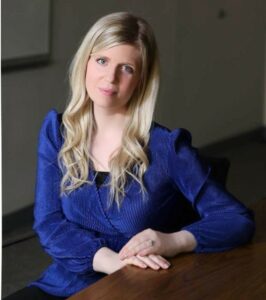 We are thrilled to announce CHRR's inaugural Visiting Community Researcher is Dr. Karlee Sapoznik Evans. Dr. Karlee Sapoznik Evans is an experienced leader specializing in research, strategic policy, social service delivery, project management, systemic advocacy, human rights (particularly children's rights), Residential School history, and sexual exploitation prevention. Since 2018, Dr. Evans has served in a leadership role with the Manitoba Advocate for Children and Youth. As Deputy Manitoba Advocate, she is responsible for research, investigations, quality assurance, and public education, advocating for the human rights, interests, and viewpoints of children, youth, and their families. To learn more about Karlee's work, please click here.
Karlee will be sharing her work with the CHRR community in the Spring of 2023. More information will be posted on our website.
If you would like to learn more about CHRR's Visiting Community Researcher program, please contact CHRR.