When:
December 6, 2022 @ 7:00 pm – 8:30 pm
2022-12-06T19:00:00-06:00
2022-12-06T20:30:00-06:00
Contact:
Association for Manitoba Archives
(204) 942-3491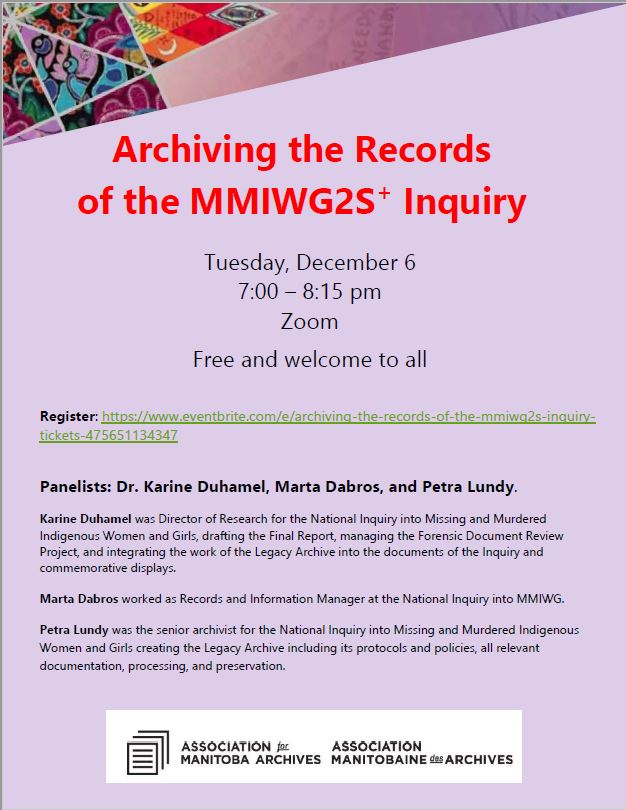 About this event
The panel will provide commentary on the importance of preserving these voices in that they tell a very different story about violence – and its potential solutions – than a "traditional" state archive. Panelists will speak specifically on the process of archiving the records from the Inquiry, and discuss the considerations that went into setting up the Legacy archive, including UNDRIP, the TRC, and protocols.
About the panelists
Karine Duhamel was Director of Research for the National Inquiry into Missing and Murdered Indigenous Women and Girls, drafting the Final Report, managing the Forensic Document Review Project, and integrating the work of the Legacy Archive into the documents of the Inquiry and commemorative displays. She now works with the Social Sciences and Humanities Research Council of Canada, supporting Indigenous-led research and knowledge mobilization projects that seek to reclaim and to affirm Indigenous power and place.
Marta Dabros is originally from Poland. She is a Records and Information Manager at the City of Winnipeg. Between 2014 and 2019, Marta had the solemn honour of working as an Archivist at the Truth and Reconciliation Commission and as Records and Information Manager at the National Inquiry into MMIWG. Marta serves as Vice President of Ogniwo Polish Museum and Chair of the Board of Polonia Inclusive. She wants to bring more knowledge and action to the Polish settler community on Reconciliation.
Petra Lundy was the senior archivist for the National Inquiry into Missing and Murdered Indigenous Women and Girls creating the Legacy Archive including its protocols and policies, all relevant documentation, processing, and preservation. She travelled with the Inquiry to all public events to both receive donations, and to create safe and comfortable spaces (both public and private) for family/friends to testify. Petra contributed to the interim and final reports as well as provided digital images and information for the digital archive exhibit. Petra Lundy previously had worked for 2 years, following her 3-month internship, at the National Centre for Truth and Reconciliation as an Assistant Archivist while doing her Master of History (Archives) at the University of Manitoba. Petra currently lives in Calgary and now is working as an Education Assistant.