When:
February 28, 2023 @ 10:30 am – 12:00 pm
2023-02-28T10:30:00-06:00
2023-02-28T12:00:00-06:00
Where:
Hybrid Event: FTX202 Fauteux Hall, University of Ottawa & Zoom
57 Louis-Pasteur Private
Ottawa
ON K1N 9A7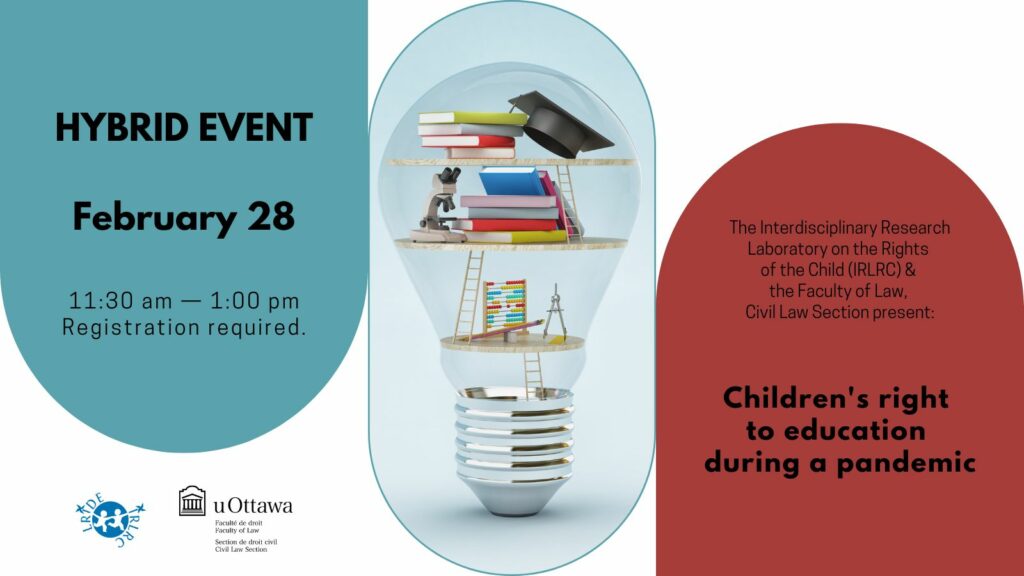 The COVID-19 pandemic has changed our lives for the past three years. While the health and labor sectors have received much media attention, relatively little has been said about education. Yet children have been greatly affected by the health crisis. Schools were closed for long periods of time and educational content was reduced to a bare minimum. Children suffered from delays in their learning, but also from other problems related to regular follow-up in the school context. Can we say that their right to education has been respected?
The conference will discuss the challenges of implementing the right to education in times of pandemic and lessons for the future. The right to education is a key right for children, as it is a fundamental right that is linked to the enjoyment of other human rights, including the child's right to development, the right to be protected from violence, the right to participate in culture, minority language rights, and the right to access social support.
Our speakers
Mona Paré | Moderator
Full Professor, Civil Law Section; Director of the IRLRC & Vice-Dean, Graduate Studies, Faculty of Law, University of Ottawa
Tracy Vaillancourt
Professor, Faculty of Education, cross-appointed at the School of Psychology in the Faculty of Social Sciences; Canada Research Chair in School-Based Mental Health and Violence Prevention, University of Ottawa & Fellow of the Royal Society of Canada
Nathalie Bélanger
Professor, Faculty of Education, Director of the Observatory on Education in Minority Language Contexts, University of Ottawa