When:
January 25, 2023 @ 6:00 pm – 8:00 pm
2023-01-25T18:00:00-06:00
2023-01-25T20:00:00-06:00
Where:
Hybrid Event: 227 Fauteux Hall, University of Ottawa & Zoom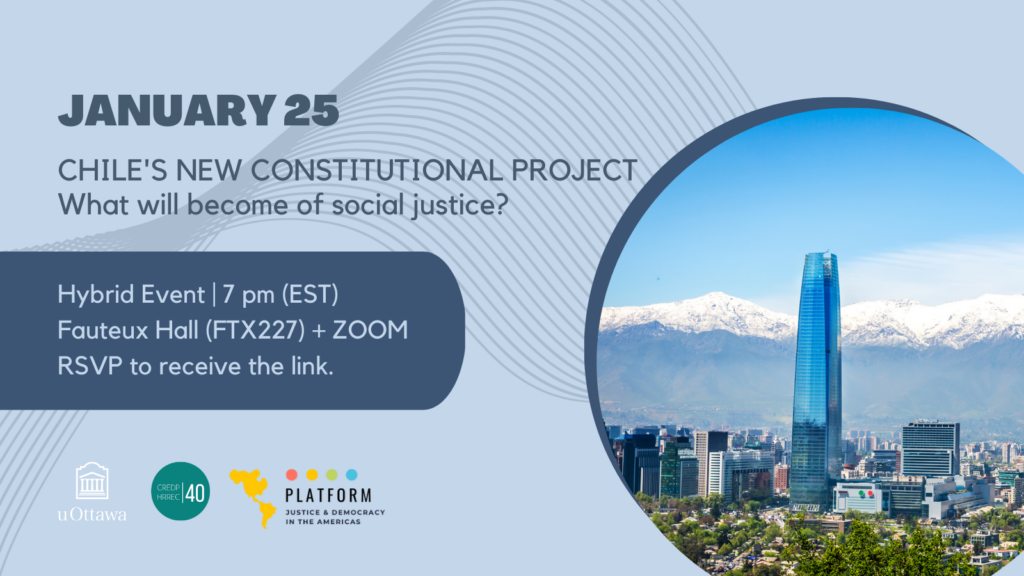 After the rejection of the draft constitution in Chile, a new agreement of political parties proposes a new constitutional formula for 2023. The previous project left much room for new social justice. What will be the compromise of the new project? Will social justice still have a place?
After the announcement of the subway fare hike, the Chilean spring of 2019 was littered with protests. Clearly, these violent (and peaceful) protests were a sign of social inequality. As one of the solutions it was then proposed to write a new constitution, the old one being inherited from the dictatorial era. After a referendum in which 78% of the voters approved of a citizens' assembly drafting a new constitution, nothing could have predicted that 18 months later, on September 4, 2022, it would be rejected, again by referendum, by more than 62% of the population. What happened to the hope for change that more than a million peaceful marchers had wished for in the streets of Santiago? Why did Chile reject this project and what will happen with the new proposal? Join us for this interesting discussion moderated by HRREC Fellow Pierre Gilles Bélanger with our guest speakers Claudio Herrera and Juan Pablo Glasinovic.
Speakers
Moderator: Pierre Gilles Bélanger
Adjunct Professor, Faculty of Law, Civil Law Section & HRREC Fellow, University of Ottawa.
Professor Claudio Herrera
Director of the Private Law Department, School of Law, University of Santiago de Chile (USACH) & Legal Advisor and Secretary of the Board of Directors of the Museum of Memory and Human Rights.
Professor Juan Pablo Glasinovic
Lawyer from the Pontificia Universidad Católica de Chile, Professor of International Relations at the Pontificia Universidad Católica de Valparaíso, Director General of the Chilean-Peruvian Chamber of Commerce & Columnist for the electronic newspapers El Dínamo and El Mostrador on international issues.