When:
September 22, 2022 @ 3:00 pm – 4:00 pm
2022-09-22T15:00:00-05:00
2022-09-22T16:00:00-05:00
Where:
John J. Conklin Theatre, University of Manitoba, Fort Garry Campus
162 Dafoe Rd W
Winnipeg
MB R3T 6B3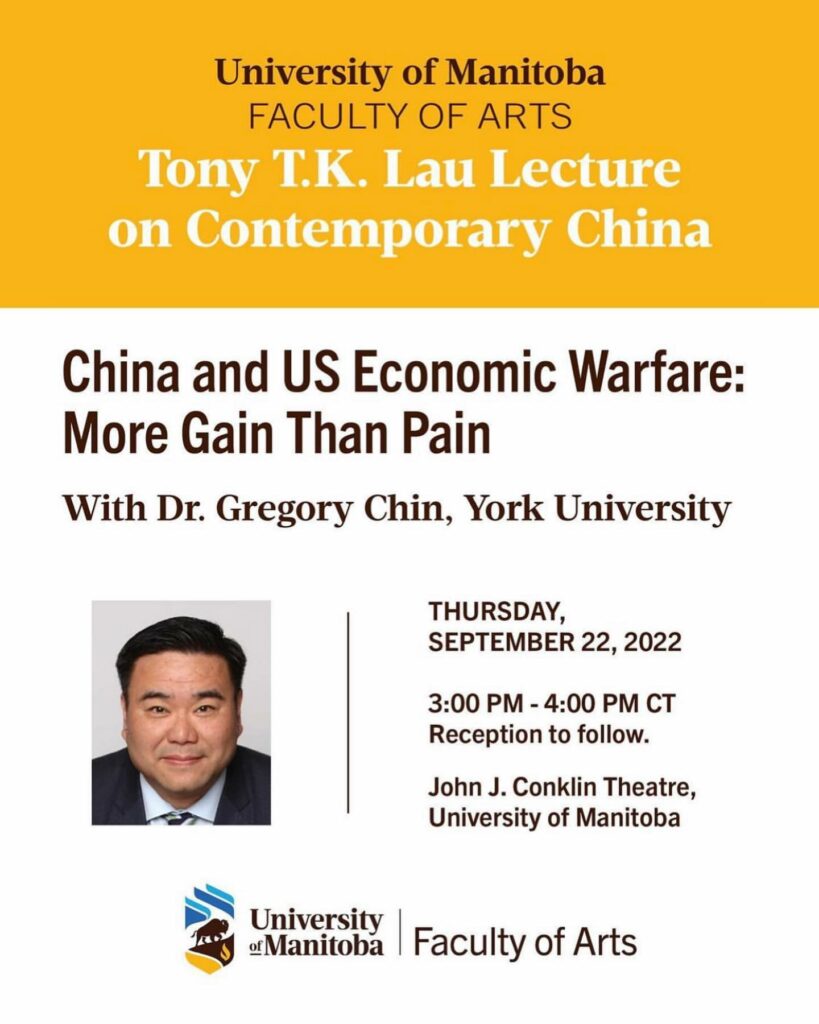 Dr. Gregory Chin, Associate Professor, Department of Politics, York University, will give the inaugural Tony T. K. Lau Lecture on Contemporary China at the University of Manitoba, presenting his research on how and why the trade war between the United States and China, and the spin-off into industrial rivalry, and financial warfare have hurt US economic interests, without seriously damaging China's economic standing, or addressing the US economic concerns that the economic warfare was meant to solve. So far, China, including Hong Kong, have actually benefited more from the intended and unintended effects of the US commercial and financial warfare measures on China and Hong Kong, rather than be fundamentally damaged. These results also speak to the limits of the US financial warfare to date. At the same time, geopolitical tensions continue to increase across the Pacific, and globally. China has been taking measures to try to defuse the economic warfare, and to reduce its vulnerability by diversifying economically toward the Global South. The US also has important decisions regarding its next steps and its future national strategic goals. These decisions between the 'G2' will strongly shape the emerging world order – the world within which Canada must operate.