When:
March 3, 2023 @ 12:00 pm – 1:00 pm
2023-03-03T12:00:00-06:00
2023-03-03T13:00:00-06:00
Where:
Hybrid Event: The Mauro Institute, Room 225 // Zoom
St. Paul's College
70 Dysart Road
University of Manitoba

Contact:
Mauro Institute
204-474-7273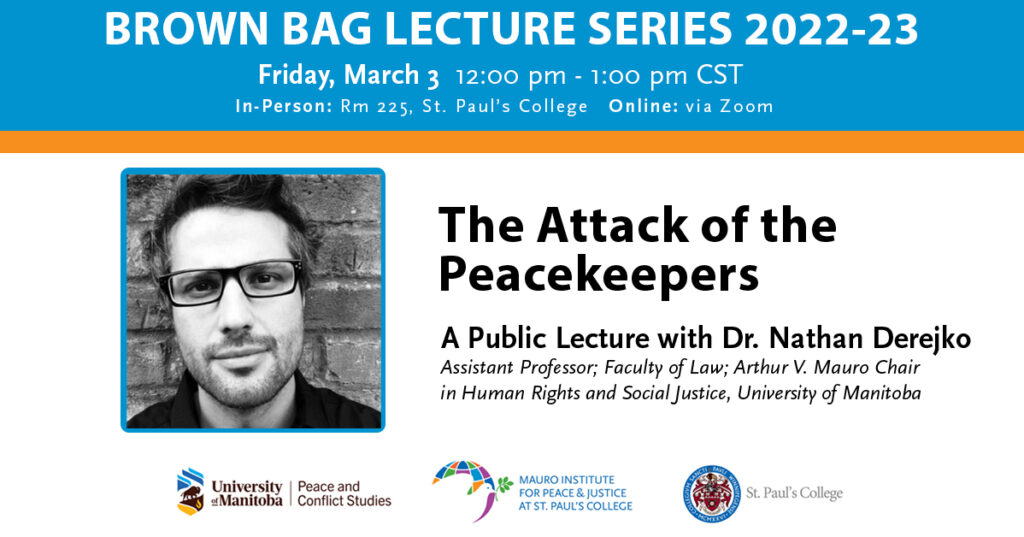 The Arthur V. Mauro Institute for Peace & Justice in collaboration with the University of Manitoba's Peace and Conflict Studies Graduate Programs presents:
A Brown Bag Lecture with Dr. Nathan Derejko. Assistant Professor; Faculty of Law, and Arthur V. Mauro Chair in Human Rights and Social Justice, University of Manitoba
With increasing frequency, the UN Security Council is authorising peacekeeping forces to launch 'offensive military operations' against armed groups in order to demobilise them and maintain territorial stability. At the same time however, the Security Council is also condemning attacks by armed groups against peacekeepers as 'war crimes'. The validity of such accusations hinges on the legal status of the peacekeeping forces under International Humanitarian Law (IHL).
This public lecture will explore the legal implications of so-called "robust" peacekeeping mandates under international law. In particular, it will investigate the conditions under which peacekeeping forces operating during situations of armed conflict should be considered as a 'Party' to the armed conflict and therefore bound by and subject to IHL. If peacekeeping forces are considered as a Party to an armed conflict, they are no longer entitled to protection from direct attack under IHL. As a result, their battlefield death, as long as it conforms to the rules of IHL, will not constitute a war crime.
Attend in-person in the Mauro Institute, Room 225 in St. Paul's College, University of Manitoba or register to attend via Zoom.