When:
February 16, 2023 @ 10:30 am – 11:50 am
2023-02-16T10:30:00-06:00
2023-02-16T11:50:00-06:00
Where:
Hybrid Event: FTX302 Fauteux Hall, University of Ottawa & Zoom
57 Louis-Pasteur Private
Ottawa
ON K1N 9A7

Contact:
Human Rights Research and Education Centre, University of Ottawa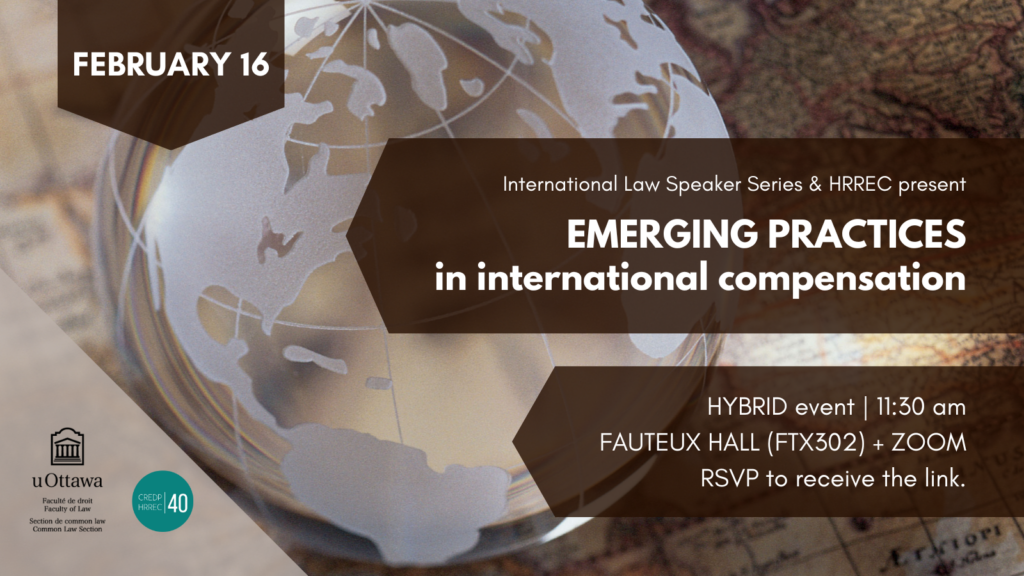 Armed conflicts, investment disputes and environment disasters are just a few of the horrendous scenarios in which violations of international law harm large numbers of individuals. As is well known, there remain legal and practical obstacles for those same individuals to access to justice in international law, whether they are entitled to a remedy as individuals or are dependent on their state to pursue compensation from the foreign state that harmed them. New practices are, however, beginning to emerge in providing compensation for mass harms that amount to a distinct legal sensibility.
The lecture will explore how these practices developed and their significance in not only expanding opportunities for redress at the international level but also shaping current debates on compensation for damage linked to varied challenges such as climate change and wartime conduct.
Our speaker
Ashley Barnes, Gordon F. Henderson Postdoctoral Fellow
Ashley Barnes is the Gordon F. Henderson Postdoctoral Fellow 2022-2023 at the Human Rights Research and Education Centre (HRREC).
Ashley is a lawyer and scholar whose work focuses on access to justice and remedies under international law. She completed her SJD at the University of Toronto Faculty of Law. Her research was supported by the Social Sciences and Humanities Research Council of Canada and the Canadian Council of International Law, among others. In 2017, she was a Visiting Scholar at the Lauterpacht Centre for International Law, University of Cambridge. She was previously a Schulich Fellow at the Schulich School of Law, Dalhousie University.