When:
March 9, 2023 @ 1:00 pm – 2:00 pm
2023-03-09T13:00:00-06:00
2023-03-09T14:00:00-06:00
Where:
Hybrid Event: The Great Hall, 218 University College & Online
203-220 Dysart Road
University of Manitoba
Fort Garry campus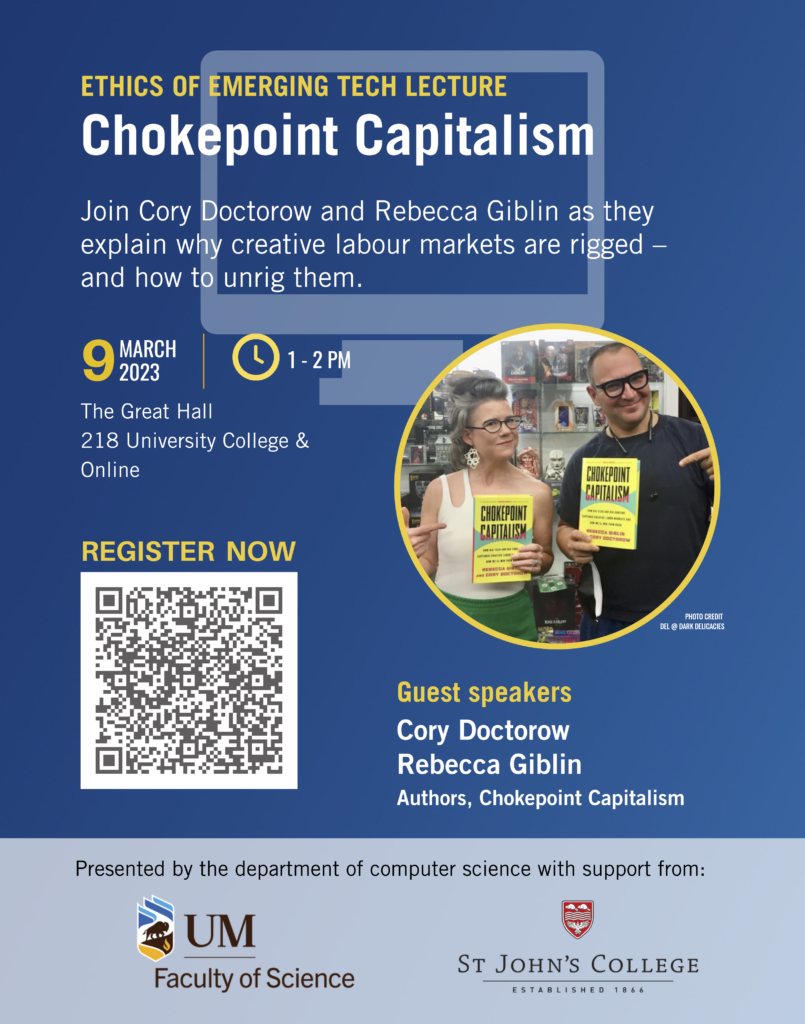 Join us for a lecture by Rebecca Giblin and Cory Doctorow, authors of Chokepoint Capitalism. Their book examines why creative labor markets are rigged – and how to unrig them.
Rebecca and Cory will be joining us virtually. Join us in the Great Hall to gather and watch the live stream, or enjoy it from home.
This event is free, but we ask that you register in advance. Add a free ticket to your cart below.
A summary of the lecture from the authors:
"Every part of our creative industries – movies, games, books, music – is controlled by a handful of giant tech and entertainment companies, and we're told that the only way to improve artists' lot is to cheer for Team Tech or Team Content in the hope that if one of them bests the other, they will dribble a few crumbs to the little people who rooted for them.
The problem isn't that tech companies don't care about artists; the problem isn't that entertainment companies don't care about artists. The problem is that companies will abuse their workforce to the extent that they can, in order to shift value from workers to shareholders.
Tech companies and entertainment companies are in a race to lock up audiences – inside walled gardens, subscriptions, playlists, recommendation systems, silos, or apps. This lets them create chokepoints that artists have to pass through in order to reach the people who want to see, hear, read and play their works, and at those chokepoints, artists can be made to surrender everything they have, including and especially whatever copyright we give them.
Giving a writer more copyright in a world with five major publishers, one brick-and-mortar national bookseller and one global ebook seller is like giving your bullied kid extra lunch money. It doesn't matter how much lunch money you give your kid, the bullies will take that too.
To get your kid fed – to get your artists paid – you need to bust up those chokepoints, with technical, targeted, *structural* interventions."
You can read more about the authors and their book here: https://chokepointcapitalism.com/