When:
April 25, 2023 @ 11:30 am – 12:30 pm
2023-04-25T11:30:00-05:00
2023-04-25T12:30:00-05:00
Where:
Hybrid Event: Circle Room in Migizii Agamik & Zoom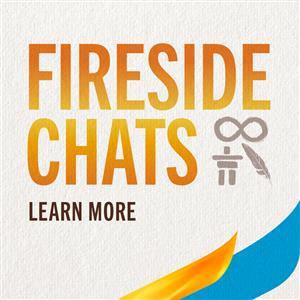 Hosted by the Indigenous Student Centre. Fireside Chats will be in a hybrid format- the in-person portion will be in the Circle Room in Migizii Agamik (Indigenous Student Centre) on the University of Manitoba, Fort Garry campus. If a speaker is presenting over Zoom, the Circle Room will be set up as a viewing space.
Join us every second Tuesday for Fireside Chats from 11:30-12:30.
Catch Fireside Chats on the following Thursday at 4:30 p.m. on 101.5 UMFM 
Join Zoom Meeting here.
Meeting ID: 681 2021 8412
Passcode: 544989
See below for full speakers list:
Topic: Fireside Chats – Carl Stone – Winter Teachings (zoom)
Time: January 17, 11:30 AM to 12:30 PM (CST)
Topic: Fireside Chats – Charlotte Nolin – 2S Sundance (zoom)
Time: January 31, 11:30 AM to 12:30 PM (CST)
Topic: Fireside Chats – Sherry Copenance – TBA (in person)
Time: February 14, 11:30 AM to 12:30 PM (CST)
Topic: Fireside Chats – Tasha Beeds – Water Walk (zoom)
Time: February 28, 11:30 AM to 12:30 PM (CST)
March 14 TBA
March 28 TBA
Topic: Fireside Chats – Christine Cyr – Sweat lodge Ceremony (in person)
Time: April 11, 11:30 AM to 12:30 PM (CST)
Topic: Fireside Chats – Vanessa Lillie – Medicine Teachings (in person)
Time: April 25, 11:30AM to 12:30PM (CST)
 May 9, TBA
 May 23, TBA