When:
September 27, 2022 @ 7:00 pm – 9:00 pm
2022-09-27T19:00:00-04:00
2022-09-27T21:00:00-04:00
Where:
Champlain Room, Best Western Plus Gatineau-Ottawa
131 Laurier St
Gatineau
Quebec J8X 3W3

Contact:
University of Manitoba Press - Sarah Ens
(204) 474-6555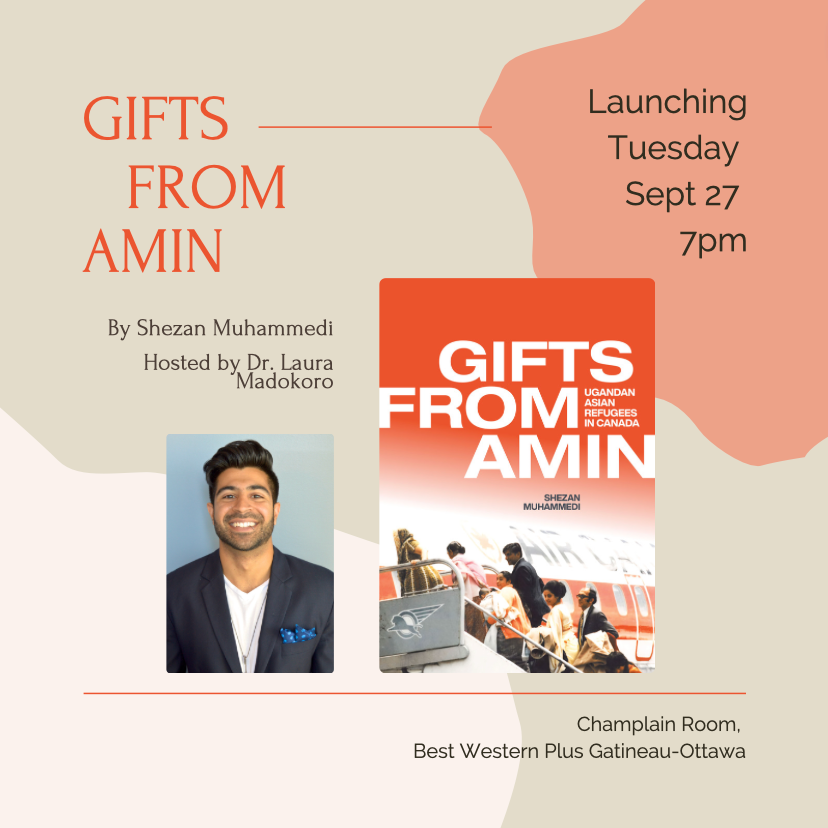 On Tuesday, September 27 at 7pm, join the University of Manitoba Press, the UN Refugee Agency (UNHCR), Carleton University, and Dr. Shezan Muhammedi for the launch of his new book Gifts from Amin: Ugandan Asian Refugees in Canada (UMP).
A 50th anniversary commemoration of the first flight of Ugandan Asian refugees leaving Uganda, this hybrid in-person and livestreamed event will feature opening remarks from Michael Casasola, head of resettlement at UNHCR Canada, and University Librarian Amber Lannon, a presentation, book reading, and moderated discussion between Dr. Muhammedi and host Dr. Laura Madokoro, and an interactive Q&A with the audience. A book signing will follow the Q&A. Attendees will also have an opportunity to enjoy refreshments and explore pieces from the UNHCR Canada's Sharing Stories project and the MacOdrum Library's Uganda Collection.
The event will be hosted at the Champlain Rooms, Best Western Plus Gatineau-Ottawa at 131 Laurier Street in Gatineau, Quebec. To watch the event online, join the simultaneous YouTube livestream.
The event is free and open to all. Registration through Eventbrite is mandatory.
About Gifts from Amin:
Gifts from Amin: Ugandan Asian Refugees in Canada documents how nearly 8,000 resettled Asian Ugandan refugees, expelled from their country by Idi Amin in 1972, responded to the threat in Uganda and rebuilt their lives in Canada. Building on extensive archival research and oral histories, Muhammedi provides a nuanced case study on the relationship between public policy, refugee resettlement, and assimilation tactics in the twentieth century. As the numbers of forcibly displaced people around the world continue to rise, Muhammedi's analysis of policymaking and refugee experience is eminently relevant. The first major oral history project dedicated to the stories of Ugandan Asian refugees in Canada, Gifts from Amin explores the historical context of their expulsion from Uganda, the multiple motivations behind Canada's decision to admit them, and their resilience over the past fifty years.
About the author:
Dr. Shezan Muhammedi is a policy analyst with the government of Canada and an adjunct research professor in the Department of History at Carleton University. From 2017-2022, Shezan worked for Focus Humanitarian Assistance, leading a resettlement program for newly arrived asylum seekers and refugees in Europe. His experiences as the child of a Ugandan Asian refugee have fueled his passion to help displaced peoples and vulnerable communities.