When:
September 14, 2022 @ 4:00 pm – 5:15 pm
2022-09-14T16:00:00-07:00
2022-09-14T17:15:00-07:00
Contact:
Canadian Centre for Policy Alternatives BC Office
(604) 801-5121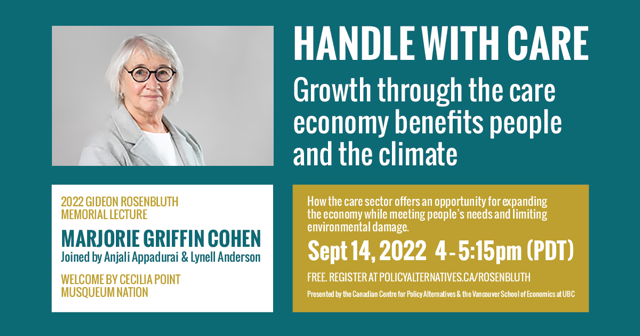 Despite the centrality of the care economy during the pandemic, the post-pandemic recovery has pivoted away from seriously addressing care issues. This is a crucial time, but the "influencers" on economic issues have effectively managed to shift attention from care to a fictional notion of what constitutes 'economic health.'
Marjorie Griffin Cohen's Rosenbluth Lecture will look at the blind spots in economic thinking that devalue the care sector and in doing so, miss opportunities for expanding the economy through activities that both meet people's needs and are less environmentally damaging.
Marjorie will be joined by respondents including Lynell Anderson from The Coalition of Child Care Advocates of BC and with an opening by Cecilia Point from the Musqueam Nation.
Free Zoom webinar registration here
About Marjorie Griffin Cohen:
Marjorie Griffin Cohen is a feminist economist who is a professor emeritus of Political Science and Gender, Sexuality and Women's Studies at Simon Fraser University. She has written extensively in the areas of political economy and public policy with special emphasis on the Canadian economy, women, labour, climate change and labour, electricity deregulation, energy, and international trade agreements.
About the Rosenbluth Memorial Lectures:
Gideon Rosenbluth was a long-time research associate with the Canadian Centre for Policy Alternatives and a highly respected member of the UBC economics department, as well as the economics community in Canada and around the world. His rigorous approach to scholarship and community involvement was guided by his commitment to social justice. Among his many roles, he was president of the Canadian Association of University Teachers and president of the Canadian Economics Association. In honour of Gideon, the CCPA–BC and the Vancouver School of Economics at UBC are pleased to host the annual Gideon Rosenbluth Memorial Lecture.