When:
March 22, 2023 @ 1:00 pm – 3:00 pm
2023-03-22T13:00:00-05:00
2023-03-22T15:00:00-05:00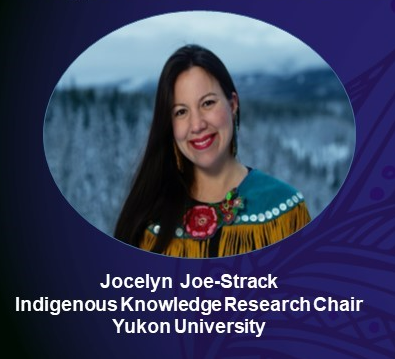 From the new Indigenous Science Division at Environment and Climate Change Canada (Science & Technology Branch) and the Indigenous Voices organizing team:
Hello, Bonjour, Tansi, Ahnii, Boo Zoo, Kwe-Kwe, Auniin, Ahanni, Waachay, Oki, Tawnshi, She:kon, She:koli, Tunngasugit,  
Join us by Webex on Wednesday, March 22, 2023, at 2 to 4 p.m. EDT (1 to 3 p.m. CDT) for the next installment of the Indigenous Science Division's Indigenous Voices seminar series.
For our next guest, we are honoured to welcome Jocelyn Joe-Strack. Jocelyn's presentation at Indigenous Voices is entitled "Indigenous scientist in recovery: Driving social change through critical thinking and community service."
Jocelyn, Däkäl'äma (Da-kal-a-ma), is a Wolf clan member of the Champagne and Aishihik (Aay-zhee-ak) First Nation of the southwest Yukon. As the Indigenous Knowledge Research Chair at Yukon University, she shares her knowledge to seed healing and societal change as a scientist, storyteller, professional Auntie and social media influencer.
She is an Indigenous scientist, artist and entrepreneur who strives to evolve tomorrow's policies by blending yesterday's ancestral lessons with today's systematic knowledge. She uses her experience as a trained microbiologist, hydrologist, and policy analyst along with her cultural foundations to explore resilient approaches to challenges such as climate change, societal well-being, and prosperity.
Jocelyn's research interests are creating foundations of Indigenous knowledge, experience, and ways of being in education and governance, and to support social transformation. Her research also focuses on youth healing and leadership, revitalizing traditional storytelling and fulfilling the spirit and intent of the Yukon Land Claim Agreements.
The Indigenous Voices seminar series aims to elevate and amplify the voices of Indigenous scientists and academics on the topic of Indigenous science. We hope to inspire attendees to learn why Indigenous science is important while challenging pre-conceived notions and making space for new ways of knowing and being in science.
To register: https://canada.webex.com/weblink/register/r8ec0f04043760de6efd6d4073e4f6273
We can't wait to see you there!
Thank you, Merci, Meegwetch, Marci, Nia:wen, Mashi Cho, Wela'lin, Qujannamiik