When:
January 18, 2023 @ 1:00 pm – 3:00 pm
2023-01-18T13:00:00-06:00
2023-01-18T15:00:00-06:00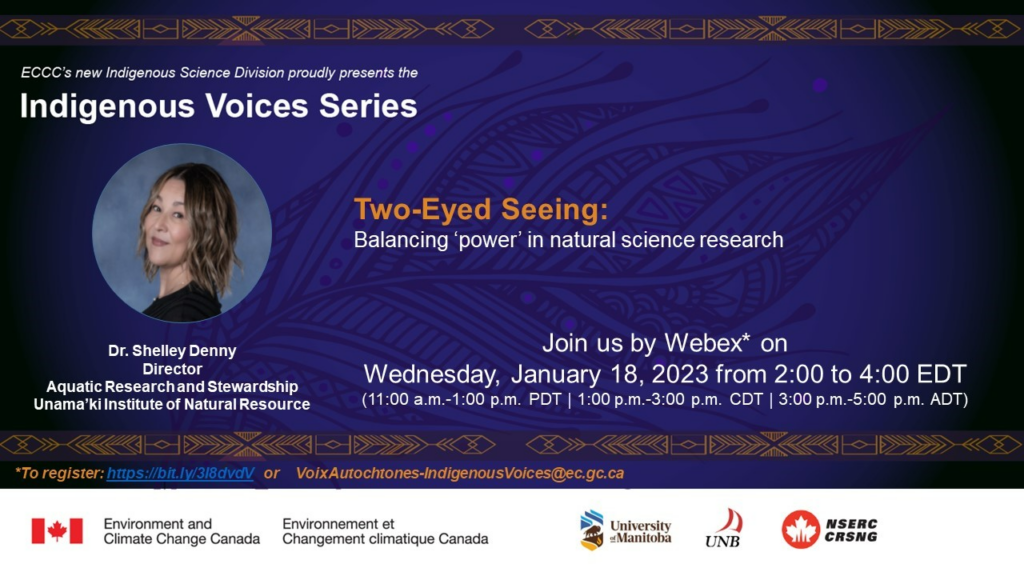 We hope to inspire attendees to learn why Indigenous science is important while challenging pre-conceived notions and making space for new ways of knowing and being in science.
Dr. Shelley Denny is a Mi'kmaq from Eskasoni First Nation and the Director of Aquatic Research and Stewardship at the Unama'ki Institute of Natural Resource (UINR). She attended Acadia University, where she obtained her BSc in Biology and later obtained her MSc in Biology at St. F.X University and Ph.D. at Dalhousie University.
Dr. Denny's research interests are exploring ways Indigenous and western knowledge can be used for the benefit of all, known as Two-Eyed Seeing. Her doctoral research built on her current interest and experience at UINR by exploring how Aboriginal and treaty fisheries can be governed in Nova Scotia using Two-Eyed Seeing.
As the founder of Indigenous Minds Consulting, Dr. Denny's other interests are to assist the government, academia, and industry in understanding the differences between knowledge systems and how they are harnessed to enhance resource management in Canada.