When:
October 5, 2022 @ 10:00 am – 12:00 pm
2022-10-05T10:00:00-05:00
2022-10-05T12:00:00-05:00
Contact:
BRAID Network for Health Educators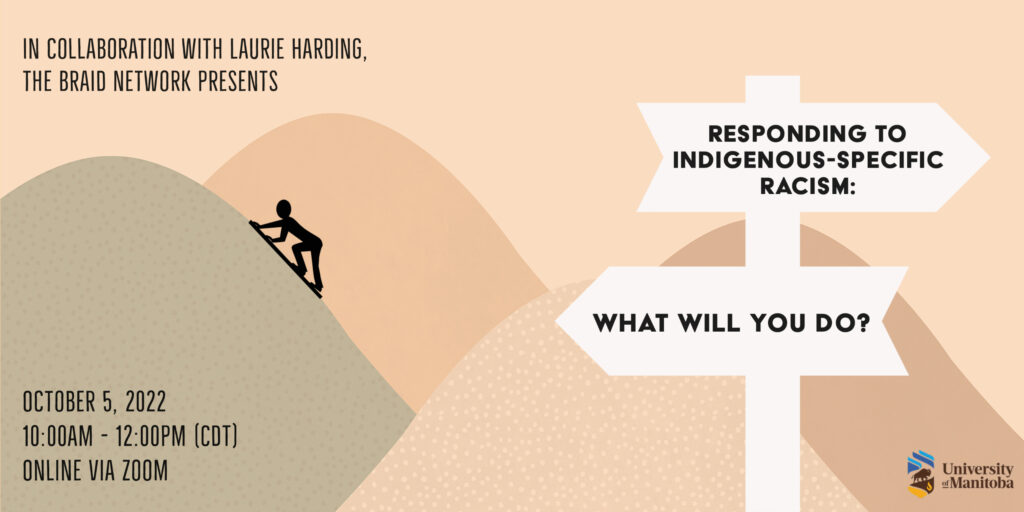 About this event
This workshop is fourth in the BRAID Indigenous Cultural Safety and Anti-Racism Learning Series. Each session provides a brief introduction to anti-racism terminology and all resources are grounded in the work of Indigenous anti-racism activists and scholars. The BRAID Network and the workshop host, Dr. Laurie Harding, acknowledge that academia and all learning environments can be sites of discrimination against Black, Indigenous, and Racialized* students, staff, faculty, and community members. We also believe that Indigenous anti-racism education can provide specific fuel required to arm educators with the tools to interrupt and challenge social norms that perpetuate racism and white supremacy.
This workshop will support participants as they move from seeing Indigenous-specific racism as requiring an Equity Diversity and Inclusion response, to being a legal issue and a Human and Indigenous Rights legislation violation. We hope to build confidence in identifying, interrupting, and responding in a timely manner and to consider the efficacy of your organizations Indigenous anti-racism policies and processes.
Learning Objectives
Identify the historical and contemporary social structures that perpetuate Indigenous-specific racism.
Explain why Indigenous-specific racism is different from forms of oppression and discrimination experienced by other equity-seeking groups.
Identify Indigenous-specific racism in the workplace – what it sounds like and its impact.
Enact practical steps to challenge Indigenous-specific racism.
*We recognize that terminology regarding racism is evolving and we work with current terms that are recognized in the work.
About the Facilitator:
Dr. Harding identifies as a White settler of English and Scottish colonial decent, occupying Quw'utsun homelands, also known as Shawnigan Lake, BC. She works closely with and credits Indigenous mentors for her Indigenous anti-racism knowledge, awareness and skills. She is a published co- author with Dr. Barry Lavallee and adjunct professor at UVIC with extensive experience in facilitation and education in the area of Indigenous Cultural Safety and Indigenous anti-racism. Her workshops are tailored to support and mentor health care educators, providers, leaders, teams, ministries, health authorities or corporations, or anyone who would like to improve their Indigenous Cultural Safety & Anti-Racism Response knowledge, self-awareness, and skills. Her doctoral thesis examines Indigenous specific racism in health services.
About the BRAID Network:
The Building Relationships for Anti-Racist Indigenous Development (BRAID) Network for Health Educators serves to provide resources, training, and a sense of community for Rady faculty to promote anti-racist practice at the University of Manitoba. To find out more about BRAID, our resources and upcoming events for health educators in the Rady Faculty of Health Sciences, please contact us at braid@umanitoba.ca.
About the Learning Series:
The BRAID Indigenous Cultural Safety and Anti-Racism Learning Series is a year-long workshop series (occurring every 6 weeks via Zoom) to support health educators to integrate anti-racism and Indigenous cultural safety into their teaching.
The overall learning objectives for the series are:
Assess your personal and professional identity/role/practice/engagement for Indigenous Cultural Safety and Indigenous anti-racism.
Engage in challenging conversations about race and racism to better understand the safety of your pedagogy, curriculum, communication and workplace
Develop capacity to interrupt racism, advocate for systemic change, and the rights of Indigenous Peoples.
Identify personal learning needs and develop a plan.
To receive notification of our upcoming workshops, please join our e-mail list by contacting us at braid@umanitoba.ca