When:
October 25, 2022 @ 2:30 pm – 4:00 pm
2022-10-25T14:30:00-05:00
2022-10-25T16:00:00-05:00
Where:
206 Tier Building, University of Manitoba Fort Garry Campus
173 Dafoe Rd W
Winnipeg
MB R3T 2M9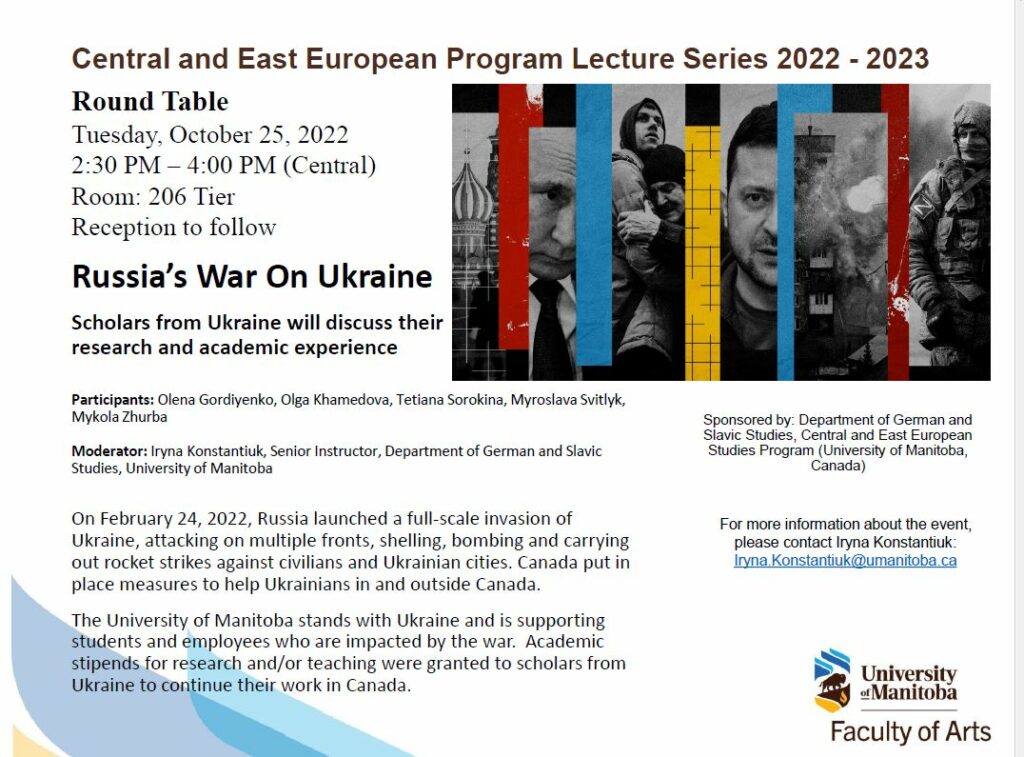 Central and East European Program Lecture Series 2022 -2023
Round Table
Tuesday, October 25, 2022
2:30 PM –4:00 PM (Central)
Room: 206 Tier
Reception to follow
Russia's War On Ukraine
Scholars from Ukraine will discuss their research and academic experience
Participants: Olena Gordiyenko, Olga Khamedova, TetianaSorokina, MyroslavaSvitlyk, MykolaZhurba
Moderator: Iryna Konstantiuk, Senior Instructor, Department of German and Slavic Studies, University of Manitoba
On February 24, 2022, Russia launched a full-scale invasion of Ukraine, attacking on multiple fronts, shelling, bombing and carrying out rocket strikes against civilians and Ukrainian cities. Canada put in place measures to help Ukrainians in and outside Canada.
The University of Manitoba stands with Ukraine and is supporting students and employees who are impacted by the war. Academic stipends for research and/or teaching were granted to scholars from Ukraine to continue their work in Canada.
For more information about the event, please contact Iryna Konstantiuk: Iryna.Konstantiuk@umanitoba.ca
Sponsored by: Department of German and Slavic Studies, Central and East European Studies Program