When:
December 13, 2022 @ 9:00 pm – 10:00 pm
2022-12-13T21:00:00-06:00
2022-12-13T22:00:00-06:00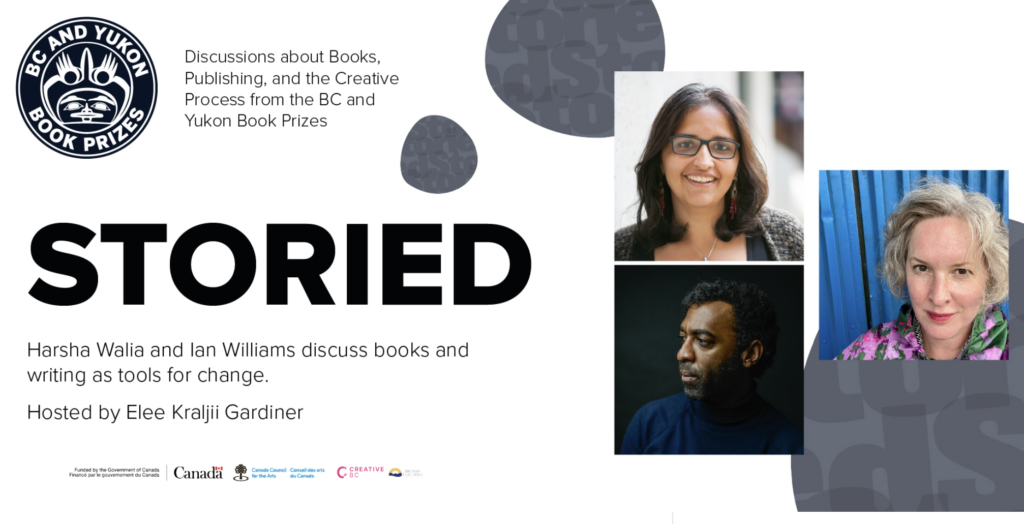 Join the BC and Yukon Book Prizes for Storied: Discussions on Books, Publishing, and the Creative Process.
On Tuesday, December 13th, Harsha Walia, author of Border & Rule: Global Migration, Capitalism, and the Rise of Racist Nationalism, and Ian Williams, author of Disorientation: Being Black in the World will discuss books and writing as tools for change with Elee Kraljii Gardiner, author of Trauma Head. Border & Rule is the winner of the 2022 Jim Deva Prize for Writing that Provokes, and Disorientation was a finalist for the 2022 Hubert Evans Non-Fiction Prize.
The event begins at 7 pm (PT).
This is a free event, but registration is required.
Funding for the Storied Series is thanks to Canada Book Fund, Creative BC, the Government of BC and the Canada Council for the Arts.
About the guests:
Harsha Walia is a South Asian activist and writer based in Vancouver, unceded Coast Salish Territories. She has been involved in community-based grassroots migrant justice, feminist, anti-racist, Indigenous solidarity, anti-capitalist, Palestinian liberation, and anti-imperialist movements, including No One is Illegal and Women's Memorial March Committee. She is formally trained in law, works with women in Vancouver's Downtown Eastside, and is the author of Undoing Border Imperialism (2013).
Ian Williams was born in Trinidad and raised in Canada. In 2019 he won the Scotiabank Giller Prize for his first novel, Reproduction, which was published in Canada, the US, and the UK, and translated into Italian. His poetry collection, Personals, was shortlisted for the Griffin Poetry Prize and the Robert Kroetsch Poetry Book Award. His short story collection, Not Anyone's Anything, won the Danuta Gleed Literary Award for the best first collection of short fiction in Canada. His first book, You Know Who You Are, was a finalist for the ReLit Poetry Prize. Williams holds a Ph.D. in English from the University of Toronto and has recently returned to that university as a tenured professor, after several years as a professor of poetry.
Elee Kraljii Gardiner is the author of two poetry books, Trauma Head, and serpentine loop, and the editor of the anthologies Against Death: 35 Essays on Living, and V6A: Writing from Vancouver's Downtown Eastside. She is active in community-based initiatives, such as her work as founder of Thursdays Writing Collective, a beloved non-profit organization, for which she edited and published nine of its anthologies, and the Andover Bread Loaf Program, which promotes literacy and educational revitalization through the lens of social justice in the most under-resourced communities and school systems around the world, particularly in US urban communities and public schools. Originally from Boston, Elee lives on the traditional and unceded territories of the Squamish, Tsleil-Waututh and Musqueam Peoples, where she works at Vancouver Manuscript Intensive, a program pairing authors with mentors to work on their writing projects. eleekg.com