When:
2022-07-22T00:00:00-05:00
2022-07-23T00:00:00-05:00
Contact:
Castan Centre for Human Rights Law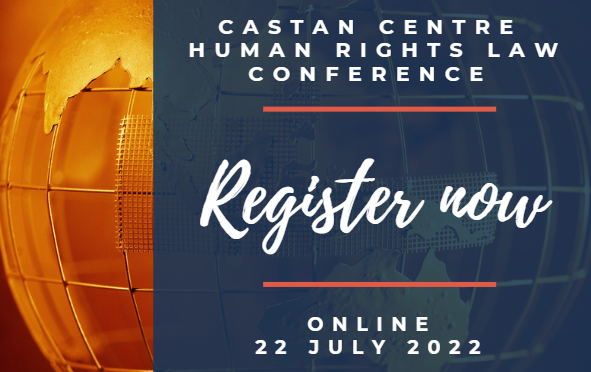 Date: Friday 22 July 2022
Time: 9am to 5pm
Venue: Online Zoom
RSVP: Register here
The annual Castan Centre conference is the leading human rights conference in Australia, providing a vital health check on the state of human rights in Australia and overseas.
This year the conference covers the topics including:
Bills of rights
Current issues and challenges in human rights law
Human rights in mental health law and services.
Intersection of international human rights and international criminal law
Feminist perspectives on the law
Developments in discrimination law in Australia
New developments in the case law of international human rights bodies relating to human rights law
Speakers
The Hon Mark Dreyfus QC MP
Attorney-General of the Commonwealth of Australia
The Hon Mark Dreyfus QC MP was appointed Attorney-General of the Commonwealth of Australia on 1 June 2022. Mark is a
 passionate defender of the rule of law, freedom of the press and the need for a powerful and independent national anti-corruption commission. Mark is a strong advocate for social justice and believes in creating a sustainable economy and environment for future generations. Mark was first elected to the House of Representatives as the Member for Isaacs in November 2007. In 2010 Mark was appointed as Cabinet Secretary and Parliamentary Secretary for Climate Change and Energy Efficiency and in February 2013, Attorney-General and Minister for Emergency Management. Prior to entering Parliament Mark was a Melbourne barrister and was appointed Queen's Counsel in 1999.  He appeared for and advised Federal, State and local governments and appeared in a number of landmark cases in the High Court, including the Stolen Generations litigation.
Professor Yuval Shany

Former Chair of the United Nations Human Rights Committee
Yuval Shany holds the Hersch Lauterpacht Chair in Public International Law at Hebrew University. An expert on humanitarian law and human rights, Shany served between 2013-2020 on the United Nations Human Rights Committee, a committee of scholars who review compliance of member states with the International Covenant on Civil and Political Rights, and in 2018 he was elected to chair the Committee. He also served until recently as vice-president of the Israel Democracy Institute.
The Hon. Pamela Tate SC

Adjunct Professor,  Faculty of Law, Monash University, member of the Castan Centre for Human Rights Law, Former Justice of the Court of Appeal of the Supreme Court of Victoria
The Hon Pamela Tate SC is an Adjunct Professor of Law, Monash University.  She was formerly a Judge of the Court of Appeal of the Supreme Court of Victoria from 2010 until her retirement in 2021.  She was the Solicitor-General for Victoria from 2003 to 2010. She was the first woman to be appointed Solicitor-General for Victoria. She was Special Counsel to the Human Rights Consultation Committee that recommended the enactment of the Charter of Human Rights and Responsibilities.  She is the Patron of the Australasian Association of Philosophy and was the Patron of the Women Barristers' Association.
Emeritus Professor Bernadette McSherry

Melbourne Law School and Commissioner of the Victorian Law Reform Commission
Bernadette McSherry is an Emeritus Professor of Law at the University of Melbourne, having previously served as the Foundation Director of the Melbourne Social Equity Institute from 2013 to June 2021. Prior to that, she held the Louis Waller Chair of Law at Monash University. Her areas of expertise are mental health law and criminal law and she has published widely in these fields. She is currently a Commissioner with the Victorian Law Reform Commission. From February 2019 to February 2021, she served as a Commissioner with the Royal Commission into Victoria's Mental Health System.
Vrinda Edan, Consumer Academic
Centre for Mental Health Nursing, Department of Nursing, School
 of Health Sciences, The University of Melbourne
Vrinda is an experienced consumer leader with 20 years' work in the consumer field and currently in a Senior Consumer Academic in the Centre for Mental Health Nursing at the University of Melbourne. She has a background as a health professional, and her work is shaped by expertise arising from her work in strategic leadership positions in health services, on ministerial committees, as Chair of VMIAC and in large research projects bringing consumer perspective into practice. Vrinda's academic roles have included teaching as well as researching recovery-oriented practice in mental health services, consumer workforce roles and practice, and the experiences of consumers in mental health services. Vrinda is passionate about human rights and is currently undertaking a PhD exploring the experiences of consumers who have advance statements in mental health.
Mary O'Hagan
Executive Director, Lived Experience in the Mental Health and Wellbeing Division, Department of Health in Victoria
Mary O'Hagan was a key initiator of the psychiatric survivor movement in New Zealand in the late 1980s and was the first chairperson of the World Network of Users and Survivors of Psychiatry between 1991 and 1995. She has been an advisor to the United Nations and the World Health Organization. Mary was a full-time Mental Health Commissioner in New Zealand between 2000 and 2007. Mary established the international social enterprise PeerZone which provides peer support and resources for people with mental distress. She has written an award-winning memoir called 'Madness Made Me' and was made a Member of the New Zealand Order of Merit in 2015. Mary is currently Executive Director Lived Experience in the Mental Health and Wellbeing Division at the Department of Health in Victoria. All Mary's work has been driven by her quest for social justice for one of the most marginalised groups in our communities.
Dr Monique Cormier

Senior Lecturer, Faculty of Law, Monash University, member of the Castan Centre for Human Rights Law
Dr Monique Cormier joined the Monash Faculty of Law as a Senior Lecturer in March 2022. Her main research interests are jurisdiction in international criminal law and legal issues relating to Australia and nuclear non-proliferation. Recent publications include The Jurisdiction of the International Criminal Court over Nationals of Non-States Parties (Cambridge University Press, 2020) and 'Can Australia Join the Nuclear Ban Treaty without Undermining ANZUS?' (co-authored with Anna Hood, Melbourne University Law Review, 2020).
Associate Professor Becky Batagol
Faculty of Law, Monash University, member of the Castan Centre for Human Rights Law
Becky Batagol is an Associate Professor of law at Monash University. She is a socially engaged academic whose work has real impact in the world, especially in relation to both gender and family violence. Becaue is co-convenor of the Feminist Legal Studies Group at Monash University and was recently seconded as the gender lead to Monash Sustainable Development Institute to work on diverse projects across water and climate resilience in Australia, Indonesia and Fiji. Her academic practice centres on tackling difficult social problems around gender and considering whether we can improve people's lives through law, policy and practice reform. The research that Becky has contributed to had been acknowledged as contributing to law reform and policy change.
Professor Beth Gaze
Melbourne Law School
Beth Gaze teaches Equality and Discrimination Law and Administrative Law at Melbourne Law School. Her research interests are in anti-discrimination and equality law, feminist legal thought, administrative law including tribunals, and socio-legal research including empirical research. She has conducted empirical research into the enforcement process under Australian federal anti-discrimination law, the experiences of applicants in the social security appeal tribunals, and the operation of the adverse action provisions of the Fair Work Act. Beth has been a member of several state and federal tribunals, and has participated in law reform processes and committees at state and federal levels.
Program
Click here for the conference program. If you want to get the news as it breaks, follow the Castan Centre on Twitter, Facebook, LinkedIn or Instagram. You can also click here to subscribe to the Casten Centre's mailing list.