When:
February 24, 2023 @ 7:00 pm – 9:00 pm
2023-02-24T19:00:00-06:00
2023-02-24T21:00:00-06:00
Where:
Hybrid Event: The Mauro Institute, Room 225 // Zoom
St. Paul's College
70 Dysart Road
University of Manitoba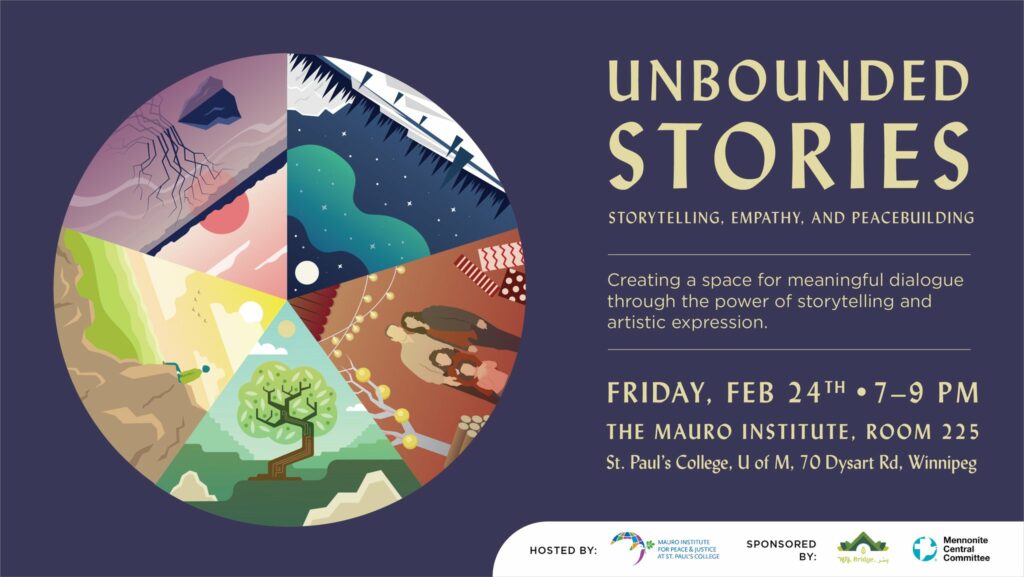 Unbound Stories: Storytelling, Empathy, and Peacebuilding
Friday, February 24 | 7:00 pm – 9:00 pm
When we took time to reflect upon the stories, myths, and attachments that have shaped our identities, we began to recognize the limits to our views of the world. We began to realize that our perspective alone was incomplete. It is only through connecting with others and sharing stories that we can develop empathy and challenge those limitations. This event is designed out of a passion for the power of artistic expression and a desire to create space for meaningful dialogue.
THE STORYTELLERS:
lzzeddin Hawamda juxtaposes life in Palestine with life on Turtle Island.
Angela Lavallee honours silent storytellers.
Aaron McKay reflects on the experiences that made him who he is today, and how he will shape his tomorrow.
Magi Hadad talks about her experience as a refugee living in Winnipeg.
Craig Miller speaks on inviting "Otherness" into our lives.
Pre-register to attend in-person in Room 225, St. Paul's College