When:
March 7, 2023 @ 10:00 am – 12:00 pm
2023-03-07T10:00:00-06:00
2023-03-07T12:00:00-06:00
Where:
Hybrid Event: Senate Chamber Room N940 Ross Building / Live streaming via ZOOM webinar
York University
Toronto
ON M3J 1P3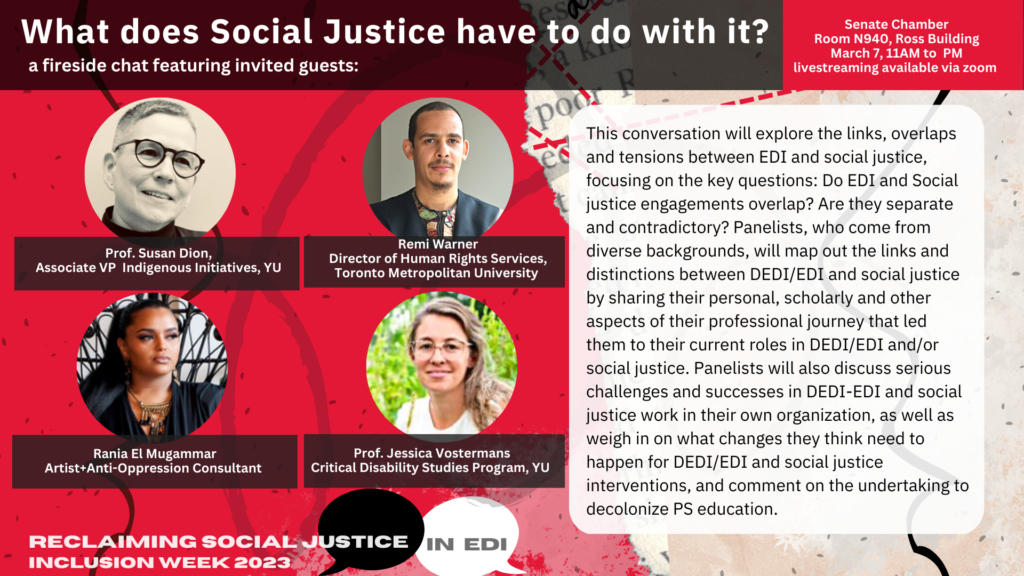 11AM to 1PM Eastern Time In person/Hybrid
Senate Chamber Room N940 Ross Building / Live streaming via ZOOM webinar
Our guest panelists:
Prof. Susan Dion, Associate Vice President – Indigenous Initiatives
Professor Dion is a Lenape and Potawatomi scholar with mixed Irish and French ancestry and was the first Indigenous tenure-track faculty member to be hired in the Faculty of Education at York. Professor Dion joined York in 2001 and was appointed to the rank of full professor in 2021.  She holds a PhD, MEd and BEd from the University of Toronto, and a BA from the University of Waterloo. She is an internationally respected scholar and researcher in Indigenous relationships and education.
Rania El Mugammar, Artist + Anti-Oppression Consultant
Rania El Mugammar is a Sudanese Artist, Liberation Educator, Abolitionist, Anti-oppression Consultant , multidisciplinary performer, speaker and published writer. Her work explores reproductive justice, transformative justice & abolition, art as liberation and digital justice.
Remi Warner, Director, Human Rights Services, Toronto Metropolitan University
Remi Warner is the Director of TMU's Human Rights Services and has extensive experience in the fields of human rights, equity, anti-racism and inclusion especially in the public service sphere. Before taking up his current role in January 2021, Remi worked to advance human rights, equity and inclusion at the Ontario Human Rights Commission, the Ontario Public Service Cabinet Office and the Toronto District School Board.
Prof. Jessica Vostermans, Critical Disability Studies Program
Dr. Vorstermans (she/her) is an assistant professor in the Critical Disability Studies program in the School of Health Policy and Management, Faculty of Health, at York University. She is a settler scholar who is living, working and researching from Treaty 13 lands, and is committed to centring reciprocity in all of her engagements and relationships. Her research makes critical interventions into the field of international experiential and service learning and global citizenship, engaging plural ideas of human rights, disability and equity.
Free Event/Refreshments will be served