The Centre for Human Rights Research regularly hosts a variety of events. These include workshops, interviews, roundtables, and seminar series.
Below you will find additional information about each of our upcoming events. For more information about events not directly hosted by the CHRR please visit our events calendar.
Critical Conversations Series

This year's Critical Conversation Series will focus on CHRR's new research theme Borders and Human Rights. This three-part series will take place virtually, and will be free to the public. ASL interpretation will be provided.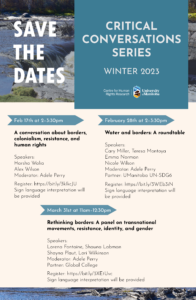 Critical Conversations: Talking Borders, Colonialism, Resistance, and Human Rights
The first conversation welcomes Harsha Walia and Dr. Alex Wilson and will take place on February 17th at 2:00-3:30pm.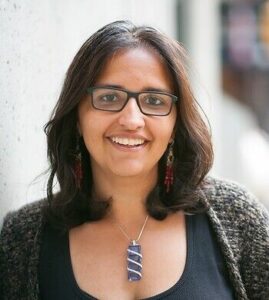 Harsha Walia is a Panjabi writer and organizer based in Vancouver, Coast Salish territories and rooted in migrant justice, anti racist, feminist, abolitionist, anti-imperialist, and anticapitalist movements and communities for over two decades. She is also the author of Border and Rule: Global Migration, Capitalism, and the Rise of Racist Nationalism (2021) and Undoing Border Imperialism (2013), and co-author of "Never Home: Legislating Discrimination in Canadian Immigration", as well as "Red Women Rising: Indigenous Women Survivors in Vancouver's Downtown Eastside."
Dr. Alex Wilson (Opaskwayak Cree Nation) is professor in the Department of Educational Foundations at the University of Saskatchewan. Her scholarship has greatly contributed to building and sharing knowledge about land-based education; Two-Spirit People; Indigenous research methodologies; and anti-oppressive education. Her research and "coming in" theory has led to classroom and community practices that honour the contributions and lives of Two-Spirit People. As an Idle No More organizer and as coordinator of an Indigenous land-based Master's program, she focuses on the prevention of violence in the lives of Indigenous peoples and the protection of land and water.
Register now and submit your questions for the speakers! 
Critical Conversations: Water and Borders — A Roundtable
In collaboration with the University of Manitoba's United Nations Sustainable Development Goal 6 (Water and Sanitation) Group, CHRR welcomes Drs. Cary Miller, Teresa Montoya, Emma Norman, Adele Perry, and Nicole Wilson to explore borders and the politics of water.
Does water have a border? When do the politics of water cut across borders, and when are they shaped, or even determined, by them? How does water challenge our conventional understanding of borders, including geopolitical ones, and how does it alert us to histories that pre-date the power of the colonial state? Can struggles around water – whether for decent drinking water, or against mega-projects and their impact on Indigenous communities – on different sides of North America's settler borders be understood in common, or as discrete and different?
This conversation will take place on February 28th from 2:00-3:30pm. Register now and submit your questions for the speakers!
Critical Conversations: Talking Movements, Transnationalism, Resistance, Identity, and Gender
In collaboration with Global College at the University of Winnipeg, the third conversation will feature Drs. Lorena Fontaine, Shauna Labman, Shayna Plaut, and Lori Wilkinson and will take place on March 31st at 11:00am-12:30pm. Register now and submit your questions for the speakers!