Understanding Canadian Aboriginal Law
Canadian Aboriginal law is a body of law in Canada that focuses on the rights and issues of Indigenous peoples (First Nations, Métis and Inuit) in Canada. Aboriginal law is different from Indigenous law. Indigenous law refers to legal traditions, customs and practices of Indigenous peoples. To further clarify, Aboriginal law is generally considered to be the law of the state (Canada), and comes from legislation and the common law through the courts and the Constitution; whereas, Indigenous law refers to Indigenous peoples' own law, such as customs, songs, dances, stories, language, and ceremonies.
– Carlie Kane, Research Assistant at the Centre for Human Rights Research and J.D. Candidate 2024
Learn more about Canadian Aboriginal law FAQ's here.
Learn more about Robson Hall law professor Bryan Schwartz's website on Specific Land Claims here.
A Timeline
Pre-Contact Indigenous Systems of Law and Governance
"Indigenous Peoples have always self-governed, even before contact. It is important to understand that Indigenous governance is not a new or novel concept and has been in practice for hundreds of years. Pre-contact, Indigenous Peoples were organized as sovereign nations. Each group exclusively occupied territory, exercised governmental authority and established "their own cultures, economies, governments, and laws." Indigenous Peoples owned the land they occupied and had property rights and responsibilities regarding the land. It is for this reason that Indigenous rights to lands and natural resources are inherent. Indigenous Peoples occupied, used and cared for the land as sovereign nations prior to European contact." (Centre for First Nations Governance, n.d.)
Aboriginal creation stories "speak of the original peoples being on this land from the time of its creation. In essence, they have lived here from time immemorial. Archaeological evidence of hearths at the forks of the Red and Assiniboine rivers, of garden plots at Lockport near Selkirk on the Red River, of rock paintings in the Whiteshell and of bison jumps in the Assiniboine River valley near Brandon are merely the best known of the physical evidence of this long occupation. As this evidence accumulates, scholars have sketched a picture of hunting-based and agriculture-based societies, of trade and of material culture that demonstrates how effectively they adapted to their environment. The social structures of these communities, however, their politics, diplomacy and family relations, are less evident. It is much more difficult to create a picture of the society in which these people lived their lives. Our brief description of the customary law that prevailed in these Aboriginal communities, drawn from oral histories of the people and written accounts of early contacts, will suffice to underline our conclusion that a separate and distinct legal system existed in pre-contact Aboriginal history." (The Aboriginal Justice Implementation Commission, n.d.)
1660-1870, Peaceful Co-Existence of Legal Regimes
"Aboriginal people and European newcomers lived in peace in Manitoba for more than 200 years, from about 1660 to the mid-19th century. They established mutually satisfactory economic relations while dwelling in essentially separate worlds. In the view of the Aboriginal people, the Europeans dwelt on the rim of an Aboriginal universe. As the English missionary, John West, discovered to his surprise, the Aboriginal people in the area around the forks of the Red and Assiniboine rivers "consider themselves the standard of excellence. In their fancied superior knowledge they are often heard to remark, when conversing with a European, 'You are almost as clever as an Indian.'""(The Aboriginal Justice Implementation Commission, n.d.)
1701, Commercialization of First Nations Harvest
Commercialization of First Nations harvest created a highly competitive fur trade that led to wars between the First Nations. In 1701, France and the 40 First Nations around the Great Lakes basin entered into the Great Peace treaty to end the violence.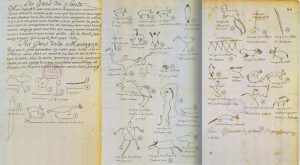 Peace Treaty of 1701, In the peace treaty of 1701, pictograms represent the signatories of the various nations.
1763, Allies to Wards of the State
"After 1763 the relationship between the Indigenous peoples and the Crown changed from allies to wards. The changing relationship was driven by the influx of newcomers following the American war of Independence. There was a greater demand for land and the First Nations were no longer seen as allies but rather as obstacles to growth." (Nelligan Law, 2022)
The Royal Proclamation of 1763 made an appearance when France ceded territories to Britain in the Treaty of Paris, and King George III of England issued the Royal Proclamation. The 1763 Royal Proclamation "set out a framework for the British Crown to acquire Indigenous interests in land through treaties. The Proclamation reserved to Indigenous peoples lands that had not been ceded to or purchased by the Crown, recognized that Indigenous interests in lands could only be purchased through agreements with the Crown following a public meeting involving the Indigenous community, and provided that no private person could directly acquire Indigenous interests in land." (Nelligan Law, 2022) "The Royal Proclamation of 1763 confirms Aboriginal rights and states that treaties must precede European settlement." (Schwartz, n.d.)
1850, the Act for Better Protection of the Lands and Property of the Indians in Lower Canada
The 1850 Act was one of the first pieces of legislation that included a set of requirements for a person to be considered a legal Indian, a precursor to the concept of "status". (Parrott, 2020).
1871, Numbered Treaties are Enforced without Consultation
Canada has been given administrative control of "Indian Affairs" and entered into numbered treaties with different First Nations.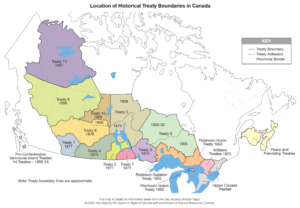 1876, The Indian Act, a long history of assimilation policies intended to terminate Indigenous cultural, social, economic, and political distinctiveness with the intended goal of absorbing them into mainstream Canada
"The Indian Act is the primary law the federal government uses to administer Indian status, local First Nations governments and the management of reserve land. It also outlines governmental obligations to First Nations peoples. The Indian Act pertains to people with Indian Status; it does not directly reference non-status First Nations people, the Métis or Inuit. First introduced in 1876, the Act subsumed a number of colonial laws that aimed to eliminate First Nations culture in favour of assimilation into Euro-Canadian society. The Act has been amended several times, most significantly in 1951 and 1985, with changes mainly focusing on the removal of discriminatory sections. It is an evolving, paradoxical document that has enabled trauma, human rights violations and social and cultural disruption for generations of Indigenous peoples." (Parrott, 2006).
"Indian Act came into force in 1876. The federal department assumed greater authority over Indians and lands reserved for Indians, managing their lands, monies and resources. What's more, this Act introduced prohibitions on intoxicants and aimed to enhance the assimilation of Indians by obligating parents to send their children to schools. The wholescale push for assimilation included bans on Indigenous spiritual ceremonies and introducing enfranchisement in order to enjoy the rights of citizenship like voting." (Nelligan Law, 2022)
"The Act has been amended several times, most significantly in 1951 and 1985, with changes mainly focusing on the removal of discriminatory sections. It is an evolving, paradoxical document that has enabled trauma, human rights violations and social and cultural disruption for generations of Indigenous peoples." (Parrott, 2020).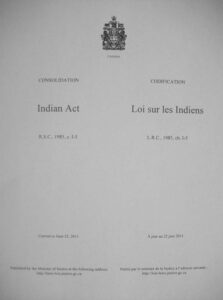 Indian Act, courtesy Government of Canada.
1883, The Indian Residential School System emerges from the Indian Act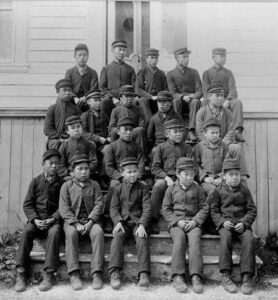 Students of the Metlakatla Indian Residential School, B.C. Photo Courtesy of Library and Archives Canada.
While the federal Indian Residential School system began around 1883, the origins of the Indian Residential School system can be traced back as early as the 1830's long before Confederation in 1867, when the Anglican Church established a residential school in Brantford, ON (Indigenous Peoples Atlas of Canada). First Nations children attended residential schools between 1883 and 1996. "The last school closed in Saskatchewan in 1996." (Spice, 2022).
Read Karlee Sapoznik Evans, Anne Lindsay and Niigaanwewidam James Sinclair's case study on 'Forced to Work 'Too Hard': A Case Study of Forced Child Labour and Slavery in Manitoba's Indian Residential Schools.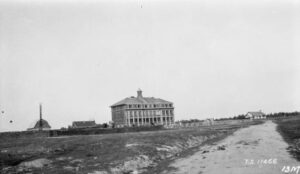 Distant view of Norway House Indian Residential School, Norway House, Manitoba, 1927.
Credit: C.S. Macdonald / Canada. Dept. of Mines and Technical Surveys / Library and Archives Canada / PA-020236; Restrictions on use: Nil; Copyright: Expired.
"Since Canada was created in 1867, the federal government has been in charge of aboriginal affairs. The Indian Act, which was enacted in 1876 and has since been amended, allows the government to control most aspects of aboriginal life: Indian status, land, resources, wills, education, band administration and so on. Inuit and Métis are not governed by this law.
In its previous versions, the Indian Act clearly aimed to assimilate First Nations. People who earned a university degree would automatically lose their Indian status, as would status women who married non-status men. Some traditional practices were prohibited. Between 1879 and 1996, tens of thousands of First Nations children attended residential schools designed to make them forget their language and culture, where many suffered abuse. On behalf of Canadians, Prime Minister Stephen Harper made a formal apology in 2008 to Canada's Aboriginal Peoples for this policy that sought to "kill the Indian in the child."" (Montpetit, 2011).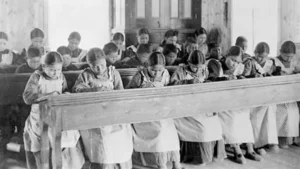 Native children were sent to residential boarding schools, like this one in Fort Resolution, N.W.T., in late 19th and early 20th centuries. Early versions of the Indian Act were clearly designed to assimilate First Nations people. (Library and Archives Canada/PA-042133)
1914 -1918 & 1939 – 1945, World War 1 and 2 and its impacts on First Nations peoples
Indigenous Peoples in Canada have fought on the front line of every major battle Canada has been involved in, and have done so with valour and distinction. It is estimated that 7,000 First Nations People served in the First and Second World Wars, and the Korean War; an unknown number of Métis, Inuit and non-Status Indians also served. However, it was not until 1995, fifty years after the Second World War that Indigenous Peoples were allowed to lay Remembrance Day wreaths at the National War Memorial to remember and honour their dead comrades. (Indigenous Corporate Training Inc., 2022)
"At the time of the First World War, First Nations (status Indians) were exempt from conscription because they were not considered "citizens" of Canada and did not have the right to vote. To serve in the Canadian Air Force or Canadian Navy, you had to be "of pure European descent"; this restriction was rescinded in 1940 for the Air Force and 1943 for the Navy. After the First World War, returning veterans did not receive the same assistance as other returned soldiers under the War Veterans Allowance Act; this policy endured from 1932 until 1936. Many First Nation veterans from the Second World War found that when they returned home after fighting overseas for Canada, they were no longer considered Indians because the Indian Act specified that Indians absent from the reserve for four years were no longer Indians.
Many status Indian soldiers had to become enfranchised before they could sign up to fight in the Second World War, which meant that when they returned to their home communities, they no longer had Indian status. They also did not have the right to obtain other benefits available to non-Indigenous veterans due to Indian Act restrictions. Between 1932 and 1936, Indigenous veterans on reserves in need of help, were to be treated like everyone else on reserves rather than as veterans. Many Second World War veterans, including Tommy George Prince, the most decorated Indigenous war veteran whose medals included the American Silver Star and six service medals, re-enlisted for the Korean War simply because they were unable to re-enter their previous lives. The lives of numerous Indigenous veterans ended in despair and poverty." (Indigenous Corporate Training Inc., 2022)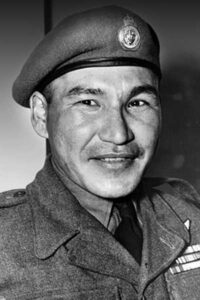 1939, Supreme Court of Canada Ruling
"In the Constitution Act, 1867, the federal government was given jurisdiction over "Indians" under section 91(24). In 1939, the Supreme Court of Canada held that this included Inuit (Reference as to whether "Indians" in s. 91(24) of the BNA Act includes Eskimo inhabitants of the Province of Quebec, [1939] SCR 104). However, there remained confusion over whether federal or provincial governments had responsibility to administer programs and services for persons of mixed ancestry. Until the Daniels decision of 2016, discussed below, such persons often had no recourse as both federal and provincial governments denied they had jurisdiction." (Nelligan Law, 2022)
1960, Federal Suffrage for Status Indians
"Many Indigenous people fought in both World Wars for Canada and their relationship began to shift. In 1960, First Nations were given the right to vote. Slowly Indian Agents were removed from reserves and First Nations were given greater control over their affairs as the federal government began funding First Nation political organizations thereby enabling them to renegotiate treaties and enforce their rights." (Nelligan Law, 2022)
1970, Modern Day Treaties
"In the early 1970's three court decisions had an immeasurable impact on the future of Indigenous rights. In Quebec, the Cree of Eeyou Istchee and the Inuit of Northern Quebec obtained an injunction against the Hydro Quebec project. This lead to the James Bay and Northern Quebec Agreement, the first modern day treaty." (Nelligan Law, 2022).
1973, The Calder Decision
In Calder v. British Columbia, [1973] SCR 313, the Supreme Court of Canada acknowledged that Indigenous title was a legal right derived from Indigenous peoples' historic occupation of territory.
"In 1967, Frank Calder and other Nisga'a elders sued the provincial government of British Columbia, declaring that Nisga'a title to their lands had never been lawfully extinguished through treaty or by any other means. While both the BC Supreme Court and the Court of Appeal rejected the claim, the Nisga'a appealed to the Supreme Court of Canada for recognition of their Aboriginal title to their traditional, ancestral and unceded lands. Their appeal was a landmark move that posed considerable risk not only to the Nisga'a, but to all Aboriginal peoples hoping to have their rights and title affirmed and recognized. What the Supreme Court concluded was groundbreaking. While the lower levels of court had denied the existence of Aboriginal title, the Supreme Court ruled in 1973 that Aboriginal title had indeed existed at the time of the Royal Proclamation of 1763. The Supreme Court's 1973 decision was the first time that the Canadian legal system acknowledged the existence of Aboriginal title to land and that such title existed outside of, and was not simply derived from, colonial law." (Salomons, 2009)
British Columbia cabinet minister Frank Calder talks to media in Ottawa Feb.8, 1973 after meeting with Prime Minister Pierre Trudeau and Indian Affairs Minister Jean Chretien. (CP PHOTO/Chuck Mitchell)
1981, Lovelace v Canada, the fight to restore the legal rights of Status Indian women and children
"Seeking a permanent and more far-reaching solution, Lovelace Nicholas took her case (Lovelace v. Canada) to the United Nations Human Rights Committee in 1981. She argued that discriminatory measures in the Indian Act violated international law. Around the same time, other Indigenous women who had lost their status, such as Jeannette Corbiere Lavell and Yvonne Bédard (supported by women's groups including Indian Rights for Indian Women and the Native Women's Association of Canada) made separate legal challenges in Canada that aimed to end discrimination against women in the Indian Act. In Lovelace Nicholas's international case, the UN ruled in her favour, stating that Canada was in breach of the International Covenant on Civil and Political Rights. While the UN lacks the power to change Canadian law, many Indigenous women in Canada saw this as a victory." (Conn, 2020).
1982, Section 35 of the Constitution Act, 1982
"In 1982, section 35(1) of the Constitution Act, 1982 recognized and affirmed existing Indigenous and treaty rights. Therefore, such rights can no longer be extinguished through legislation, but only by voluntary surrender to the Crown, unless there is a constitutional amendment. Also in 1982, section 25 of the Canadian Charter of Rights and Freedoms provided that the guarantee of certain rights in the Charter must not be interpreted to abrogate or derogate from any Indigenous or treaty rights or other rights or freedoms that pertain to Indigenous peoples." (Nelligan law, 2022)
1984, The Guerin decision, the Crown has a fiduciary obligation to protect First Nations' interests with third parties
"In Guerin v. R, [1984] 2 SCR 335, the Supreme Court of Canada held that Indigenous title is a legal right to occupy and possess lands but that the ultimate title rests with the Crown. The Court wrote that a surrender of Indigenous title to the Crown gives rise to a fiduciary obligation, meaning that the Crown has a duty of utmost loyalty to deal with surrendered land in the best interests of the Indigenous peoples." (Nelligan Law, 2022)
Gertrude Guerin, Musqueam Chief in 1959 – 1961
"Gertrude Guerin joined with other members of the Musqueam nation to challenge the government on Indigenous rights in a Supreme Court case, R v. Guerin [1984] 2 S.C.R. 335 (also referred to as Guerin v. The Queen). This case stemmed from actions taken by the federal government of Canada in 1958, who represented the Musqueam and leased approximately 162 acres of prime Vancouver land to the Shaughnessy Heights Golf Club. In 1975, the Musqueam filed suit against the federal government for misrepresenting them and their interests. When the case was first heard, the band was awarded $10 million for the government's failure to provide all details of the agreement to the Musqueam." (Robinson, 2017)
The Supreme Court decision in the Guerin case is one of the most important legal judgments in the history of Indigenous law in Canada. It recognized two key principles:
1. The Crown has a fiduciary duty toward First Nations and their lands, which can be enforced through the courts.
2. It reaffirmed the existence of Aboriginal title to First Nations lands.
The concept of "fiduciary duty" has become an important element in other Indigenous rights cases. It also became integral in the interpretation of Section 35 of the Constitution Act, 1982, which provides for the protection of Indigenous rights (Robinson, 2017).
1985, Bill C-31
"In 1985, responding to growing national and international concern over the lack of equality in the Indian Act, the government passed Bill C-31. The bill fully removed all remaining enfranchisement clauses. Additionally, those who had lost status through marriage were reinstated as Status Indians and as band members. Their children gained status, but would not gain band membership for two years. This interval was meant to give bands time to create their own membership codes, which could exclude the children, but not their mothers. If such a code was not passed prior to June 1987, the children gained band membership as well. With more control over membership lists, bands could have non-status members.
However, since funding through the federal government is based on status members, there However, while the amendment addressed discrimination against women, it also created some problems. Bill C-31 created two categories of Indian registration. The first, known as section 6(1), applies when both parents are or were entitled to registration. (This section is further broken down into sub-sections that differ based on how status is passed down.) The second, known as section 6(2), applies when one parent is entitled to registration under 6(1). Status cannot be transferred if that one parent is registered under section 6(2). In short, after two generations of intermarriage with non-status partners, children would no longer be eligible for status. This is known as the "Second-Generation Cut-Off" rule. In this way, Bill C-31 has had consequences on the number of people entitled to status rights.is little incentive for bands to have many non-status members." (Parrott, 2020).
1990, The Oka Crisis, raises awareness of land claims
"The Oka Crisis, also known as the Kanesatake Resistance or the Mohawk Resistance at Kanesatake, was a 78-day standoff (11 July–26 September 1990) between Mohawk protesters, Quebec police, the RCMP and the Canadian Army. It took place in the community of Kanesatake, near the Town of Oka, on the north shore of Montreal. Related protests and violence occurred in the Kahnawake reserve, to the south of Montreal. The crisis was sparked by the proposed expansion of a golf course and the development of townhouses on disputed land in Kanesatake that included a Mohawk burial ground. Tensions were high, particularly after the death of Corporal Marcel Lemay, a Sûreté du Québec police officer. Eventually, the army was called in and the protest ended. The golf course expansion was cancelled and the land was purchased by the federal government. However, it did not establish the land as a reserve, and there has since been no organized transfer of the land to the Mohawks of Kanesatake."(de Bruin, 2013).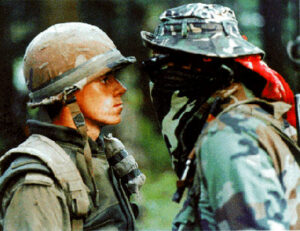 Oka Confrontation, Summer 1990 (courtesy of Canapress).
1990, R v Sparrow, the SCC recognizes existing Aboriginal rights and interprets Section 35 of the Constitution Act for the first time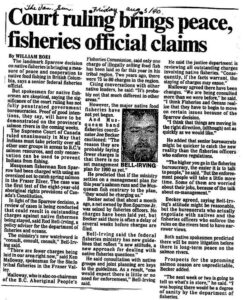 Image of a newspaper clipping from Vancouver Sun, 1990.
R v. Sparrow was a precedent-setting decision made by the Supreme Court of Canada that set out criteria to determine whether governmental infringement on Aboriginal rights was justifiable, providing that these rights were in existence at the time of the Constitution Act, 1982. This criteria is known as "the Sparrow Test."
"In 1984, Musqueam band member Ronald Sparrow was arrested for fishing with a net longer than was permitted by his food fishing license. His arrest and subsequent court case led to one of the most defining decisions by the Supreme Court of Canada regarding Aboriginal rights. Musqueam community members recognized Sparrow's arrest as a threat to their collective rights, and to the rights of Aboriginal people across Canada. As such, the Musqueam band decided to defend to the charge against Sparrow. They outlined five main arguments:
That the Musqueam retained the right to fish on the territories they had inhabited and fished on for centuries;
That Musqueam's rights to the land and its resources had never been extinguished by treaty;
That Section 35 of the 1982 Constitution Act reinforced Musqueam's right to fish;
That any infringement on Aboriginal fishing rights was invalid, as evidenced by Section 35, unless justified as being a necessary measure of conservation, and
That a restriction on net length infringed on Musqueam's fishing rights and was not justified by reason of conservation.1
The case was first heard in the British Columbia (BC) Provincial Court, which found Sparrow guilty of violating the terms of his fishing license. This conviction was appealed to the BC County Court, which ruled in the same manner as the Provincial Court. Musqueam then appealed to the BC Court of Appeals and won their appeal. In 1988, the case was heard in the Supreme Court of Canada and in 1990, 6 years after Ronald Sparrow's arrest, the court ruled in favour of the Musqueam. The Supreme Court's decision ruled that, despite nearly a century of governmental regulations and restrictions on Musqueam's right to fish, their Aboriginal right to fish had not been extinguished. This decision was arrived upon by the Court's interpretation of the phrase "existing Aboriginal and treaty rights are hereby recognized and affirmed" in Section 35." (Salomons & Hanson, 2009).
"Section 35 had been added to the Constitution in 1982 to protect Aboriginal rights. However, those rights had yet to be explicitly defined. The Supreme Court of Canada ruled that Musqueam's Aboriginal right to fish had not been extinguished prior to the 1982 Constitution and that, as such, Mr. Sparrow had an "existing" right to fish at the time of his arrest. The Court also ruled that the words "recognized and affirmed," as they appear in Section 35, mean that the government cannot override or infringe upon these rights without justification. This point essentially upheld the then-recent R. v. Guerin decision that the government has a fiduciary duty to First Nations." (Salomons & Hanson, 2009).
1996, R. v Van der Peet
In R. v. Van der Peet, [1996] 2 SCR 507, the Supreme Court of Canada held that, in order to be an Indigenous right, an activity must be an element of a practice, custom or tradition integral to the distinctive culture of the group claiming the right. The Court also held that Indigenous title, which is the exclusive right to occupy and use land, is a sub-category of Indigenous rights.
"Dorothy Van der Peet, a member of the Stó:lō First Nation in British Columbia, was charged with selling salmon that had been caught under a food-fishing license. Such a license permitted Aboriginal people to fish solely for the purposes of sustenance and ceremonial use, and prohibited the sale of fish to non-Aboriginal people. Van der Peet challenged the charges, arguing that as an Aboriginal person, her right to sell fish was protected under Section 35 of the Constitution Act. The provincial court ruled that Van der Peet's right to sell fish was not protected by Section 35, as selling fish did not constitute an "existing" Aboriginal right. This ruling was subsequently overturned by a summary judge, but was later reinstated by the Court of Appeal. In 1996, the Supreme Court upheld the Court of Appeal's finding, ruling that while fishing constitutes an Aboriginal right, the sale of such fish does not. Despite Stót:lō peoples' traditional practice of engaging in complex trade and barter relationships with other First Nations, the Court ruled that trade in salmon did not amount to an Aboriginal right. The Court's decision thus went beyond the earlier Sparrow ruling (1990), to define particular Aboriginal rights regarding fishing. The ruling also resulted in what is known today as the Van der Peet Test, or the "Integral to a Distinctive Culture Test," which determines how an Aboriginal right is to be defined." (Salomons & Hanson, 2009)
1997, Delgamuukw v British Columbia
"The Delgamuukw case (1997) (also known as Delgamuukw v. British Columbia) concerned the definition, the content and the extent of Aboriginal title (i.e., ownership of traditional lands). The Supreme Court of Canada observed that Aboriginal title constituted an ancestral right protected by section 35(1) of the Constitution Act, 1982. Influenced by the Calder case (1973), the ruling in the Delgamuukw case had an impact on other court cases about Aboriginal rights and title, including in the Tsilhqot'in case (2014)." (Beaudoin, 2022)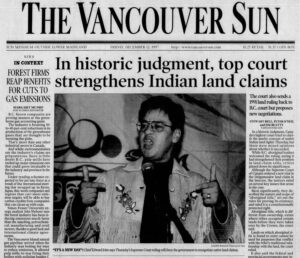 1999, The Gladue Case
Also known as R v Gladue, is a landmark Supreme Court of Canada decision which advises that lower courts should consider an Indigenous offender's background and make sentencing decisions accordingly, based on section 718.2(e) of the Criminal Code of Canada.
"In 1995, Jamie Tanis Gladue, a 19-year-old Cree woman, stabbed and killed her common-law husband, Reuben Beaver, in Nanaimo, ​British Columbia. Gladue was intoxicated — her blood-alcohol level was approximately double the legal limit for operating a motor vehicle in the province — and had suspected her husband of infidelity at a party earlier in the evening. Beaver confirmed his infidelity and insulted Gladue during an argument upon returning to their townhouse. Gladue fatally stabbed Beaver in the chest after chasing him from the home with a knife. Gladue was charged with second-degree murder but pleaded guilty to manslaughter. The trial judge heard that she had demonstrated remorse, and that while on bail she had attended counselling for substance abuse and completed Grade 10. Since she was not living on a reserve at the time of the murder, the judge ruled that section 718.2 (e) of the Criminal Code did not apply in her case. This section states that a court must consider all available sanctions other than imprisonment that are reasonable in the circumstances should be considered for all offenders, with particular attention to the circumstances of Aboriginal offenders. The judge sentenced Gladue to three years in prison." (Parrott, 2022)
"The Gladue case led to the development of "Gladue reports," which are personal histories prepared by or on behalf of offenders that outline mitigating factors for judges to consider in sentencing; and "Gladue rights," which entitle an offender to such considerations. All persons who self-identify as Indigenous, including First Nations, Métis and Inuit, have Gladue rights and may prepare a Gladue report for consideration during sentencing. Such a report might outline how a particular offender has been marginalized or otherwise affected as a result of their upbringing. The Gladue case also helped to establish "Gladue courts," which are legal systems that are tailored to Indigenous peoples. Gladue court judges, for example, specialize in matters concerning Indigenous peoples." (Parrott, 2022)
Read more about the Gladue Practices in the Provinces and Territories in Canada.
Listen to Professor Debra Parkes' discussion on Implementing Gladue, Sentencing Aboriginal People.
2004, Haida Nation v British Columbia
In Haida Nation v. British Columbia (Minister of Forests), [2004] 3 SCR 511, the Supreme Court of Canada held that the Crown is obliged under section 35(1) of the Constitution to consult with Indigenous people and, if necessary, accommodate their concerns before a final judicial determination has been made as to the existence and scope of an Indigenous right. (Nelligan Law, 2022)
2011 & 2017, Amendments to the Indian Act and Bill C-3
"Despite various amendments, the Indian Act still discriminated against women and their descendants, with regards to status rights. In 2011, Parliament passed the Gender Equity in Indian Registration Act, also known as Bill C-3. This was federal government's response to the McIvor case, which was about gender discrimination in section 6 of the 1985 Indian Act. Bill C-3 grants 6(2) status to grandchildren of women who regained status in 1985. However, the descendants of women, specifically in terms of great-grandchildren, did not have the same entitlements as descendants of men in similar circumstances. Therefore, Bill C-3 still denied status rights to some individuals because of gender discrimination.
Bill S-3 was created in response to another court case about discrimination in the Indian Act, the 2015 Descheneaux case. The issue in this case was about the way status is passed to cousins and siblings. One part of Bill S-3 came into effect on 22 December 2017. Among other provisions, the amendment enables more people to pass down their status to their descendants and reinstate status to those who lost it before 1985. For example, it provides ways to register people with unknown paternity and who were unmarried minors between 1951–85 and affected by registration rules in place at the time. The other part of the bill — related to restoring status to women and their offspring who lost status before 1951 (known as the "1951 Cut-off") — was brought into force on 15 August 2019. According to the government, "All known sex-based inequities in the Indian Act have now been addressed."" (Parrott, 2020).
2013, Manitoba Métis Federation Inc. v Canada
In Manitoba Métis Federation Inc. v. Canada (Attorney General), [2013] 1 SCR 623, the Supreme Court of Canada held that Canada failed to implement the Manitoba Act, 1870, in a manner consistent with the honour of the Crown by giving Métis children allotments of land.
"In Manitoba Metis Federation Inc. v. Canada, the appellants (plaintiffs) — including the Manitoba Metis Federation Inc. (MMF) — charged that Canada failed to implement sections 31 and 32 of the Manitoba Act, 1870. These sections had promised land to the children of the Red River Métis in Manitoba, and recognized existing Métis land ownership. Although the MMF lost the case in 2007 and in a 2010 appeal, the Supreme Court of Canada ruled in its favour in 2013. The Supreme Court stated that in failing to follow the land grant provision, the Crown had not taken diligent action to fulfill its constitutional obligation. In response to this case, the Canadian government and the MMF signed a memorandum of understanding in 2016 to explore talks on reconciliation and develop a framework for negotiating a solution."(Conn, 2021)
""Louis Riel must be smiling." That was the front-page headline of the Winnipeg Free Press on March 9, 2013. It's taken from the response of the head of the Manitoba Métis Federation to the ruling by the Supreme Court of Canada released the day before that the Canadian and Manitoba governments abrogated their responsibilities to respect land rights won by the Métis people when the province was established in 1870." (Annis, 2013)
Métis Leader Louis Riel (centre) surrounded by councillors of the Metis Legislative Assembly of Assiniboia
2014, Tsilhqot'in Nation v British Columbia
In Tsilhqot'in Nation v. British Columbia, [2014] 2 SCR 257, the Supreme Court of Canada granted a declaration of Indigenous title to the Tsilhqot'in Nation on the basis that it had used the land regularly and exclusively. The Court held that Indigenous title is inherently collective and exists not only for the benefit of the present generation, but also for that of all future generations. This restricts the transferability of land and the uses to which land can be put. The Truth and Reconciliation Commission of Canada was a truth and reconciliation commission active in Canada from 2008 to 2015, organized by the parties of the Indian Residential Schools Settlement Agreement. (Nelligan Law, 2022)
Between Keewatin and Tsilhqot'in conference (2014) on the implications of recent Supreme Court decisions for First Nations and Aboriginal people in Canada.
2015, Truth and Reconciliation Commission of Canada
"The Commission was officially established on June 1, 2008 and was active until 2015. Its purpose was the documenting the history and lasting impacts of the Canadian residential school system on Indigenous students and their families." (Nelligan Law, 2022)
In 2015, the National Centre for Truth and Reconciliation (formerly the Truth and Reconciliation Commission) released its entire 6-volume final report. Read the reports here.
2016, Daniels v Canada
"Daniels v Canada (Indian Affairs and Northern Development) 2016 SCC 12 is a case of the Supreme Court of Canada, ruling that Métis and non-status Indians are "Indians" for the purpose of s 91 of the Constitution Act, 1867." (Nelligan Law, 2022)
"On 14 April 2016, the Supreme Court of Canada ruled in Daniels v. Canada that the federal government, rather than provincial governments, holds the legal responsibility to legislate on issues related to Métis and Non-Status Indians. In a unanimous decision, the court found that Métis and Non-Status peoples are considered Indians under section 91(24) of the Constitution Act, 1867 — a section that concerns the federal government's exclusive legislative powers. Recognition as Indians under this section of law is not the same as Indian Status, which is defined by the Indian Act. Therefore, the Daniels decision does not grant Indian Status to Métis or Non-Status peoples. However, the ruling could result in new discussions, negotiations and possible litigation with the federal government over land claims and access to education, health programs and other government services." (Conn, 2019)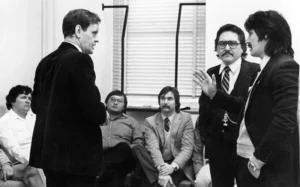 Federal Justice Minister Jean Chretien meets with representatives of Canada's native peoples in Ottawa in 1981. Speaking with Jean Chretien is Peter Ittiunar, NDP MP for the Eastern Arctic (far right) and Harry Daniels, chairman of the Native Council of Canada (CP/Peter Bregg)
2019, National Inquiry into Missing and Murdered Indigenous Women and Girls
"Published in 2019, the National Inquiry's Final Report revealed that persistent and deliberate human and Indigenous rights violations and abuses are the root cause behind Canada's staggering rates of violence against Indigenous women, girls and 2SLGBTQQIA people. The two volume report calls for transformative legal and social changes to resolve the crisis that has devastated Indigenous communities across the country." (Nelligan Law, 2022)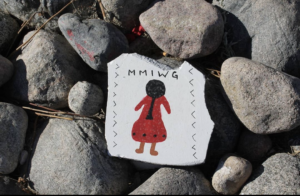 Photo of the MMIWG rock at the Forks, Winnipeg. (Photo by C. Kane)
2020, Newfoundland and Labrador (Attorney General) v Uashaunnuat (Innu of Uashat and of Mani-Utenam)
"In Newfoundland and Labrador (Attorney General) v. Uashaunnuat (Innu of Uashat and of Mani-Utenam), 2020 SCC 4, the Supreme Court of Canada held that the special nature of Indigenous title as a collective right that benefits future generations means that it is different from civil law and common law conceptions of property and must be understood with reference to Indigenous perspectives." (Nelligan Law, 2022)
2021, Southwind v Canada
"In 1929, a dam to power hydroelectricity generation to Winnipeg was completed. It involved raising the water level of Lac Seul by ten feet to create a water reservoir (the "Project"). Despite repeated warnings about the considerable damage the flooding would cause the Lac Seul First Nation ("LSFN") reserve, the Project advanced without the consent of the LSFN, without compensation, and without the lawful authorization required." (Monchalin, 2021).
"The SCC found that Canada breached its obligation to preserve and protect the LSFN's interest in the reserve, which included an obligation to negotiate compensation for the LSFN on the basis of the value of the land to the hydroelectricity project and not as bushland or waterfront land. The SCC found that the LSFN was entitled to equitable compensation for the lost opportunity to negotiate for an agreement reflecting the value of the land to the hydroelectricity generation project. The SCC allowed the appeal and held that the award for equitable compensation be set aside and returned to the Federal Court for reassessment." (Monchalin, 2021).
The significance of the SCC's decision means that "compensation cannot be assessed in the vacuum of historical legislation. The expropriating party and the courts need not only to consider the legislative scheme, but understand the depth of what the fiduciary duty means at its core and actually apply this duty in a meaningful way. Merely applying the legislative requirements will not satisfy the Crown's fiduciary duty to Indigenous peoples. The SCC is clarifying that the Crown's fiduciary duty to Indigenous peoples cannot be overlooked when it comes to compensation for expropriation." (Monchalin, 2021).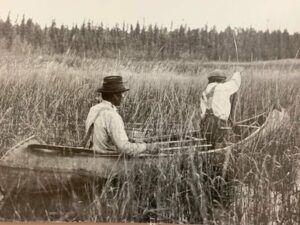 Life of the Lac Seul First Nation people who lived on the reserve during the 1920's before the hydroelectric dam flooded part of their lands. Courtesy Photo: The Courier.
2021, The Implementation of UNDRIP
"The United Nations Declaration on the Rights of Indigenous Peoples (UNDRIP) received Royal Assent and came into force. This Act provides a roadmap for the Government of Canada and Indigenous peoples to work together to implement the Declaration based on lasting reconciliation, healing, and cooperative relations." (Nelligan Law, 2022)
"The UN Declaration is monumental because it is the only human rights instrument created with the participation of the rights holders themselves. Further, it specifically recognizes that Indigenous peoples' rights are both collective and individual. The UN Declaration sets the floor for Indigenous peoples' rights – the minimum necessary to meet international human rights standards, not a ceiling. States are free to apply higher standards or stronger rights than those set out in the UN Declaration." (Gunn, 2011, p. 6)
Read Implementing the United Nations declaration on the rights of Indigenous peoples written and produced by Brenda Gunn, Professor at the University of Manitoba Faculty of Law and Indigenous Bar Association Director.
References
Click here for a list of references.